Get Out the Vote at Center Street Branch
Get Out the Vote: Shining a Light on Disinformation and the Marginalized
Wednesday, October 10
5:30-7:30 pm
Center Street Branch Community Room
2727 W. Fond du Lac Ave.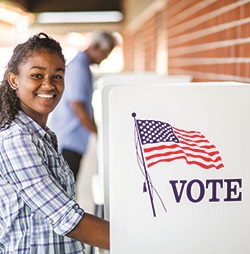 The November 2018 elections are a prime opportunity for those in the Black community to make their voices heard. Local panelists discuss the importance of voting in the Black community and explore social issues including the rise of disinformation and the role of journalism.
Moderator: Vivian King, Community Leader
Panelists:
James Causey, Milwaukee Journal Sentinel, journalist
David Haynes, Milwaukee Journal Sentinel, editor
Earl Ingram, Jr., News Talk 1510 AM radio, talk show host
Sharyl McFarland, Just Leadership USA, community leader
Shauntey Nelson, Wisconsin Voices, Democracy Director
Light refreshments will be provided.
Sponsored by a grant from the Wisconsin Humanities Council.