A teenaged couple is convicted of murder on Vancouver Island in That Night by Chevy Stevens.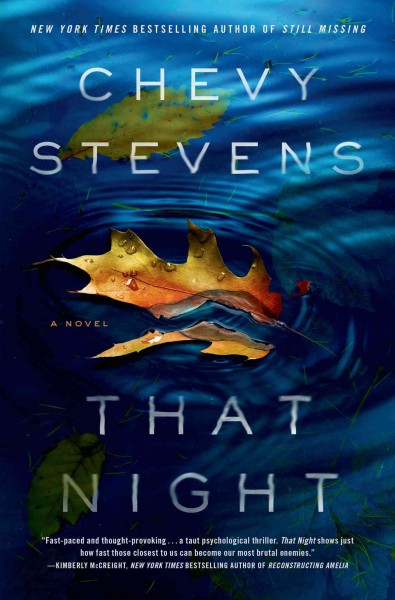 It's 1996 and Toni Murphy can't wait to graduate from high school and get out of town. It's the usual problems, her parents don't like her boyfriend, Ryan and her little sister, Nicole has started hanging around with the 'cool' kids who love to torment Toni.
But then Nicole is killed. Toni and Ryan are imprisoned and found guilty of her murder. Whomever killed Nicole has not only ruined her life, but Toni and Ryan's too because even when they're out on parole, they'll be forbidden by law to contact one another.
Seventeen years have passed and Toni is being released from prison. Alternating between 1996 and the present day Chevy Stevens explains more about the events of That Night. Toni is stressed and trying to rebuild her life; Ryan's focus is on solving the crime they were wrongly accused of, but the truth may be more terrifying and put both of them in even more danger.
This suspenseful thriller with elements of heartbreak, the cruelties of fate, and redemption is perfect for fans of Alex Marwood's The Wicked Girls or James Lee Burke and Sue Grafton.

Jacki @ Central