Peeps Diorama Contest & Workshops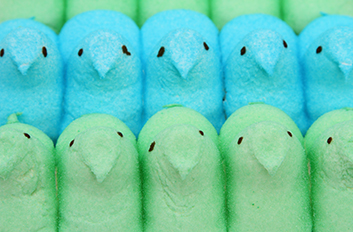 Build a book-inspired scene using marshmallow PEEPS! Materials will be provided during the workshop sessions listed below, or bring your own. Please bring your own shoebox. Dioramas may be made at home, but must include at least one Peep. Finished creations are due at one of the participating branches by Friday, March 30.
Vote for the PEEPles' Choice Award at the library or online after Friday, March 30 through Friday, April 6.
Workshops
Tuesday, March 20, 5-7 p.m.
Mitchell Street
906 W. Historic Mitchell St.
Tuesday, March 27, 5-7 p.m.
Atkinson
1960 W. Atkinson Ave.
Tuesday, March 27, 1:30-3:30 p.m.
Tippecanoe
3912 S. Howell Ave.
---
For teens ages 13-18
Peeps Diorama Contest at the Villard Square Branch
Teens are encouraged to create a diorama of Peeps based on a book of their choice. Create a scene, sketch out ideas, and use the Internet for ideas and inspiration! Dioramas will be on display beginning Monday, April 16 for everyone to view and vote for the Peeples' Choice Award. Winners will receive a prize.
Contest Rules
Base your diorama off a book title or a scene from a book.
The diorama must include one or more Peeps.
Use a shoe box or comparable item of reasonable size.
Include the title of your diorama on the front of the shoe box, and your name only on the back.
Make your diorama transportable.
Melt, mold, and manipulate chicks and bunnies to bring your vision to life.
Submit your diorama and entry form to the library by Saturday, April 14.
Entries are limited to one per person.
Judging for the Peeples' Choice Awards will take place the week of April 16.
Peeps Diorama Build
Build your own Peeps Diorama. Materials will be provided at the library, but participants must provide their own shoe box. If you can't make it to the library, you can create your diorama at home and bring it to the library by Saturday, April 14.
Wednesday, April 4 and 11, 3:30-5:30 p.m.
Villard Square
5190 N. 35th St.