The Color of Law in Milwaukee's Carleton's Addition
The Milwaukee Public Library has book club discussions of Richard Rothstein's The Color of Law, before he speaks about his critically-acclaimed indictment of public policies aiding and abetting racial segregation at the MATC Cooley Auditorium on Tuesday, October 16th, 5:30 p.m.
A local example of the color of law was 9th Ward Alderman August J. Abe's resolution to rezone the sparsely-settled and wooded Carleton's Addition subdivision as a future playground in 1944 after African Americans bought 18 lots.
In the late 1800s, George W. Carleton inherited 80 acres of his father's farm in the southeast area of the Town of Granville. He hired surveyor Samuel D. Austin to plat 40 acres into 320 lots in 8 blocks of 40 lots each in 1893. More than 93% of the lots were 30' wide. The future residential subdivision was named Carleton's Addition and its boundaries were North Milwaukee Ave. (W Fairmount Ave.), 43rd St. (N. Sherman Blvd.), Town Line Rd. (W. Hampton Ave.), and 47th St. It was separated by more than two miles of farmland from Milwaukee. Development didn't take off until the first dozen scattered houses were built in the 1920s. Most of them were built on 1½ lots. 30' lots were suited for late-19th century Victorian houses, but were too narrow for bungalows that were built in Milwaukee's new neighborhoods during the Roaring Twenties.
Milwaukee usually had the smallest African American population percentage among the 15 largest American cities before 1970. Fewer than 1,000 lived here in 1910, but more started moving in larger numbers to the "Machine Shop of the World" as part of the Great Migration to flee Jim Crow segregation in the South. They settled in the Haymarket (W. Walnut St., N 3rd St., W. Juneau Ave. and N. 12th St.), an aging neighborhood that was predominantly Eastern European Jewish.
In retrospect, the Haymarket/6th Ward demographic change in the 1920s was symbolized by Goldie Myerson leaving Milwaukee for Palestine in 1921 to eventually become the prime minister of Israel as Golda Meir, and Bernice Copeland arriving here in 1928 to work on African American outreach at the YWCA center in the 6th Ward. Perry O. Powell was the executive secretary of the Milwaukee Real Estate Board (Greater Milwaukee Association of Realtors) when it discussed restricting the growing African American community to a "black belt" in 1924.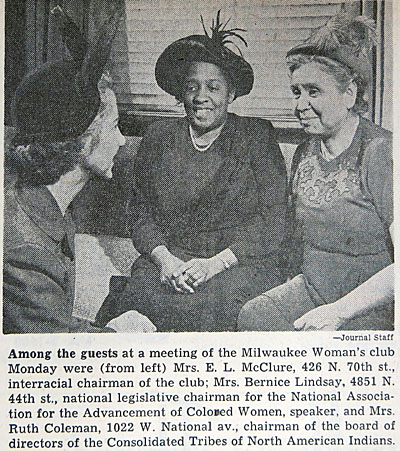 Bernice Copeland Lindsay, The Milwaukee Journal, March 14th, 1950
Funeral home owner August J Abe was an alderman in the City of North Milwaukee. Its city limits were Silver Spring Rd. (Dr.), 27th St., Congress St., 43rd St. (N. Sherman Blvd.), Stark St., Hopkins St., Villard Ave. and 43rd again. He opposed consolidation with the City of Milwaukee, its larger neighbor expanding northward. Milwaukee Mayor Daniel Hoan and annexation director Arthur Werba launched a campaign in 1922 that increased Milwaukee's land size by two-thirds from 26 to 44 square miles in 10 years. On January 1st, 1929, Milwaukee and North Milwaukee consolidated after voters voted yes in referendums held in both cities.
George W. Carleton died in 1926 and his youngest son, Walter G., became the trustee of his estate. In a quick succession of land contracts, Carleton sold more than 150 lots to A. W. Richter, who flipped them to Perry O. Powell (¾ share) and Thomas J. Kelly (¼ share), who then flipped them to Oscar J. Warth, Jr.
With Milwaukee knocking on its doorstep, the few Carleton Addition homeowners and nonresident lot owners Carleton, Powell, Kelly and Warth signed a petition to be annexed by the big city with good public services and water, which took effect on November 5th, 1929. The dream of selling lots to prospective homeowners collapsed with the stock market crash of October 24th-29th, 1929. Less than a handful of houses were built in Carleton's Addition during the Great Depression (1929-1941) that followed.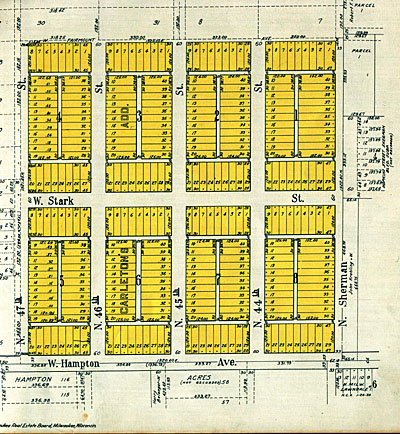 1930 Carleton's Addition Quarter-Section Map
Warth couldn't make the semi-annual installment payments to Powell and Kelly, who, in turn, couldn't pay Carleton, who then couldn't pay property taxes on the empty lots.
As the Depression worsened, Powell and Kelly signed a Quit Claim Deed to unsold lots on Blocks 2 and 7 to Carleton on December 9th, 1931, after a land contract foreclosure on Warth.
On the same day, in a deed from Carleton, Powell and Kelly to the First Wisconsin Trust Company (affiliated with First Wisconsin National Bank, which eventually became part of US Bank) on unsold lots in Blocks 3 and 6 (west side of N. 45th St. and east side of N. 46th St. between W. Hampton and Fairmount Aves.), one of the 20-year restrictive covenants inserted was that no lot or building could be bought, owned, leased or occupied by a nonwhite person, except for servants employed by white owners.
At a public auction on February 17th, 1932, the City Treasurer put on sale the unpaid property taxes of lots around Milwaukee. A partial search of property records at the Milwaukee County Register of Deeds show African Americans Bernice Copeland, Fred Bland, Elmer Franklin, Charles Bowers, Elvis Ridgway, Lonnie Eubanks and Thelma Welch purchased Certificates of Sale for nonpayment of taxes on at least 12 lots in Block 7 (west side of N. 44th St. and east side of N. 45th St. between W. Hampton Ave. and W. Stark St.) of Carleton's Addition as assignees of the City of Milwaukee. If a delinquent owner does not pay property taxes to redeem the lots before expiration, the purchaser of a Certificate of Sale becomes the new property owner. In other words, the above mentioned individuals received tax deeds in 1940 and became property owners.
At another public auction in 1936, the City Treasurer's Office deposited 73 Certificates of Sale for nonpayment of taxes on lots in Blocks 1, 3, 4, 5 and 8 in Carleton's Addition. The Circuit Court ruled in 1942 and 1943 that the City of Milwaukee could take possession of unsold lots in Blocks 2, 3, 6 and 7 in Carleton's Addition for nonpayment of taxes.
August J. Abe ran for 9th Ward Alderman as a Nonpartisan in 1932 and lost against Milwaukee's first Socialist mayor, Emil Seidel (1910-1912). The Nonpartisans started as a Democratic and Republican fusion ticket against Seidel and the Socialists in 1912. Seidel retired in 1936 and Abe won. He's one of the few elected officials who lived at the same address and elected alderman in two cities at different times. He lost reelection in 1940, but won again in 1944.
Ulysses G. and Bernice Copeland Lindsay built a Cape Cod house on 1½ lots on N. 44th St. Harry Wright moved into 4855 N. 47th St. in Granville, across the street from Milwaukee and Carleton's Addition. Some White 9th Ward residents asked Ald. Abe to stop more African Americans from buying some of the remaining 176 city-owned lots and building houses.
Ald. Abe introduced File 79853 to rezone the 40-acre Carleton's Addition as a future playground, halt lot sales and purchase property from existing home and lot owners, Black and White, despite plans to build a playground one block away on N. 42nd St. between W. Fairmount Ave. and W. Stark St. Without a public hearing, the Common Council passed Abe's resolution, 27-0 on July 31st, 1944.
When African American home and lot owners in Carleton's Addition and the African American community heard about this, they held a rally at Calvary Baptist Church on September 10th, 1944. Speakers pointed out Americans were fighting and dying in World War II for freedom and democracy against Nazi Germany, Fascist Italy and Imperial Japan. They charged Abe's resolution would "help the enemy" and bring Jim Crow to City Hall. A committee was formed to draft a petition to ask the Common Council to hold a public hearing on Ald. Abe's resolution. Adalbert Hurtt, who was building a house on N. 46th St. said some Whites threatened to drive him out of the neighborhood.
Many White 9th Ward residents countered with a petition asking the Common Council to determine where future schools, playgrounds and parks should be located to "develop a unified and complete residential neighborhood." On the surface, it reads as good land use planning, but many of the signers opposed African Americans living in the 9th Ward. Army Private First Class Frederick W. Hall wrote he owned property two blocks from Carleton's Addition and opposed selling city-owned lots to African Americans.
A much smaller number of White 9th Ward residents petitioned the Common Council to rescind the Abe resolution and looked towards "a post-war Milwaukee which will be known as a good and happy city for all our citizens to live in...since Milwaukee men and women of all races, colors and creeds are serving and sacrificing in this war...for American principles of equality of opportunity for all people," including the right of African Americans "to live in the 9th Ward." Mary Dunbar Cinkosky objected to the whispering campaign against African Americans in her 9th Ward as un-American.
At the September 27th and October 9th, 1944 Common Council joint Judiciary and Building Committee meetings, Bernice Lindsay, a member of the Mayor's Committee on Inter-Racial Relations (Equal Rights Commission), testified if Abe's resolution wasn't rescinded, African Americans would ask the courts to lift the halt on selling lots in Carleton's Addition. George Bradow of the Congress of Industrial Organizations (CIO) was repeatedly booed by White 9th Ward residents. He fired back, "Boo all you want." "Throw him out." "You can expect a 'lynch' atmosphere here."
The Common Council, including Ald. Abe, unanimously rescinded his resolution on October 30th, 1944. However, he immediately introduced a resolution (File 80332) to resubdivide (replat) 176 unsold city-owned lots from 30' to a wider width for uniform development after the Board of Public Land Commissioners (BPLC) submitted a report. He said it wasn't his intention to prevent African Americans from buying lots, but he asked the Tax Commissioner's Office to check deeds to see if there were racially restrictive covenants. The only racial restrictions were found in the previously mentioned 1931 deed from Carleton, et al to First Wisconsin for unsold lots in Blocks 3 and 6. The Common Council's Nonpartisan Caucus supported Abe's new resolution. African Americans feared his new resolution was another attempt to deter them from buying lots.
The BPLC submitted its report (File 80332-a) on December 11th, 1944. It recommended replatting the Victorian-era 30' wide lots to 45'-50,' suitable for Cape Cod houses that were popular in Milwaukee from the 1930s to 1950s. Many Carleton's Addition lot buyers purchased 1½ to 2 lots for sufficient width to build Cape Cods.
After World War II ended, a building boom took off in Carleton's Addition and across America after 16 years of depression and war. African American lot owners Bland, Bowers and Jack Patterson (Milwaukee's first African American public transit driver) joined Lindsay and Hurtt in building homes. Eubanks, Franklin, Ridgway and Welch sold their lots to blacks and whites who built homes. Ald. Abe left office in 1948 to return full time to his funeral home at 3621 W. Villard Ave. in the North Milwaukee neighborhood. N. 43rd St., a two-lane road north of W. Congress St., was widened into N. Sherman Blvd. The release of personal information in the 1950 Census on April 1st, 2022 will reveal how many African Americans lived in the predominantly German Carleton's Addition.
Custer Stadium (1961) was built on the mostly vacant Blocks 2 and 3 (W. Fairmount Ave, N. 44th St., W. Stark St. and N. 46th St.). BPLC's 1944 replatting recommendations languished until 1958, when the Common Council approved it for the small number of remaining unsold city-owned lots in Blocks 4 and 6, which were replatted as Municipal Subdivision, A Resubdivision of Carleton's Addition, Blocks 1 and 2. Ranch houses were built on the larger lots in the 1960s.
Abe died in 1965. Lindsay went on to serve on the Governor's Commission on Human Rights. A new street paralleling the southbound ramp from W. North Ave. to US 141 (redesignated I-43 in 1977) was named after her in 1967. She died in 1985. The neighborhood bordered by W. Locust St., I-43, W. Walnut St. and N. 20th St. was named Lindsay Heights after her in the late 1990s.
What happened in Carleton's Addition 74 years ago shows how platting and zoning can affect where we live.
A 1938 redlining map of Milwaukee can be viewed in the Frank Zeidler Humanities Room at the Central Library and online. Our blog on the 1967-1968 Open Housing Marches has a list of fair housing laws and enforcement agencies.
Thanks to Black Milwaukee: the Making of an Industrial Proletariat, 1915-1945 by Joe William Trotter, Jr., the Wisconsin Black Historical Society/Museum, Milwaukee County Register of Deeds, and the following City of Milwaukee agencies, Legislative Reference Bureau, City Records Center and the Department of Public Works - Central Drafting & Records for additional sources and information.
Dan, Local History Librarian