Browser's History
Who is Browser the Library Lion?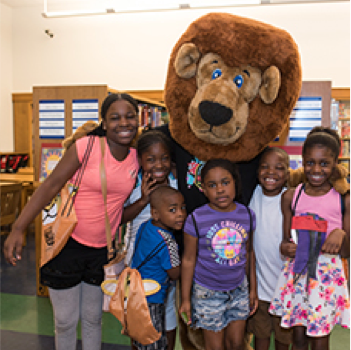 Browser was introduced to the city (without a name) at the Grand Avenue Mall on April 20, 1985 for National Library Week and Imagination Celebration, a week-long series of city-wide arts events for children. He was also part of Milwaukee's City of Festivals parade on June 22, 1985. The sculpted lion was created by local artist Bob Geniusz under the direction of Marjorie Walker, director of Theatre School Ltd.

A naming contest was held during the summer and Browser the Library Lion was selected from several hundred entries. Eight-year-old Kathleen Simeth was the only one to submit the winning name of "Browser the Library Lion."

Browser was given his first makeover as a live mascot in late 1993. In 2016, he was given another makeover, and along with that came the idea of officially celebrating Browser's Birthday - August 1.
Lion in the Library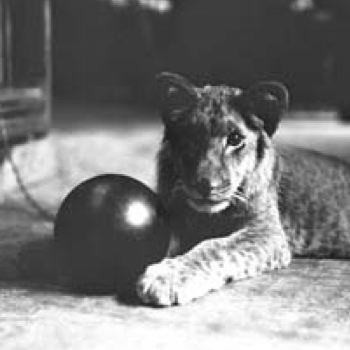 Way before an animated Simba the lion would inherit everything the light touches, there was a Simba the lion who lived in what is now our Central Library building. Simba was purchased on expedition to Africa by the Milwaukee Public Museum (which at the time still shared the building with the library) back in 1928. He'd arrive in Milwaukee in 1929, where he'd move into his temporary home in the Taxidermy department of the Museum. It wasn't too bad of a home for the little lion, though. He enjoyed a diet of meat and water mixed with milk. He happily played about on the fourth floor and the roof, and even had a favorite toy in the form of a wooden bowling ball. Poor Simba hurt himself chewing on that ball, and he was moved to the Washington Park Zoo, where they'd already intended to move him once he got too big for the museum. The zoo already had a young lion named Simba, so his name was shortened to 'Sim'. Simba, as it turns out, is simply the Swahili word for 'Lion'. Sim lived at the zoo for fourteen years and these days, you can see Sim over in the Public Museum in the Africa exhibit on the third floor. For this Simba, his circle of life was pretty unique.