Martin Luther King Jr. Day Celebration 2020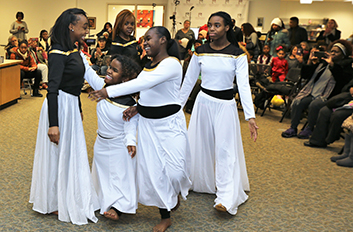 Milwaukee Public Library hosts a full day of activities honoring the life and legacy of Dr. Martin Luther King, Jr. on Monday, January 20, from 9 a.m. to 5 p.m. at the Martin Luther King Branch. For the past 10 years the branch has opened on Martin Luther King Jr. Day to offer a celebration filled with poetry, music, dance, crafts, games and community services. Programming for the celebration is funded by the Milwaukee Public Library Foundation. Interested in volunteering for the day? Apply online at www.mpl.org/about/volunteer.php.
Morning Activities from 9 a.m. to noon
Change Agent Art with Katrina Hunt
Become your own agent of change through art! Paint an empowering message on canvas.
LEGO Brick Communities
Work together to build communities with LEGO bricks.
Seeds of Change Photo Display
View images of protest signs used to ignite the fight for equality during the Civil Rights Movement.
Teen Advisory Board Interactive Game
Learn about agents of change with an interactive game and share how you make a difference in your community by writing a story or drawing a picture with MPL's Teen Advisory Board.
Craft Stations
Make one or more fun, family crafts to take home.
Button-Making
Choose pictures and words to design a King Day pin.
Interview a Change Agent
Meet people who are doing amazing things in our neighborhoods! Complete a questionnaire about them to earn a prize.
Afternoon Programs beginning at noon
Noon Welcome from City Librarian Paula Kiely and Special Guests
12:15 pm Golda Meir School
Student performers pay tribute to Dr. King's legacy.
12:25 pm 414 Life - Violence Interruption
Th e 414 Life team will provide an overview of their violence interruption methods/mission and present success stories.
12:35 pm Ton Ko Thi - Tribal/DrumTalk/Guinea Fare
These dances originating from Guinea, West Africa celebrate a villager's rite of passage from childhood to adulthood.
1:15 pm Ex Fabula Storytelling
Hear from community members who used storytelling as a way to ignite change in Milwaukee and let their true personal stories inspire you to share your own!
2:20 pm Signature Dance
Marvel at the dance moves of these young women during this powerful, original presentation.
2:50 pm Alpha Phi Alpha Trivia Contest
Learn facts about the Civil Rights Movement and earn prizes.
3:20 pm Live Painting with Fatima Laster Featuring Spoken Word
Witness the interconnectivity and interpretation of socially charged spoken word poetry put to canvas through a live painting performance.
End the day with a slice of cake in honor of Dr. King's birthday (while supplies last).