Martin Luther King Jr. Day Celebration 2019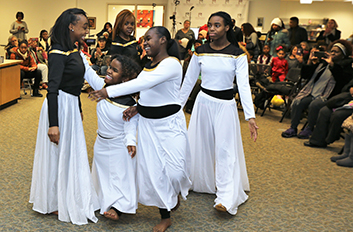 Milwaukee Public Library hosts a full day of activities honoring the life and legacy of Dr. Martin Luther King Jr. on Monday, January 21, from 9 a.m. to 5 p.m. at the Martin Luther King Branch. For the past 10 years the branch has opened on Martin Luther King Jr. Day to offer a celebration filled with poetry, music, dance, crafts, games and community services. Programming for the celebration is funded by the Milwaukee Public Library Foundation. Interested in volunteering for the day? Apply online at www.mpl.org/about/volunteer.php.
Family Activities from 9 a.m. to noon
Make and Take Art
Design your own King-inspired laminated bookmark with the help of artists from Express Yourself MKE.
TRUE Skool
What are you doing to make Dr. King's dream a reality? Craft your answer through beat making, writing and recording session. (ends at 11 a.m.)
Video Booth
Stop by the video booth and answer the question – "What are you doing to make Dr. King's dream a reality?"
I Have a Dream!
Write about your dreams and ideas and create miniature how-to books to take home.
Volunteer Recruitment Fair
Meet representatives from local organizations to find out about volunteer opportunities in the community.
Play Super-Sized Chess
Challenge friends or family to a game on the super-sized chess board.
Craft Stations
Make one or more family fun crafts to take home.
Button-Making
Choose pictures and words to design a King Day pin.
3D Pen Creations
Use 3D pens to create peace signs.
Afternoon Performances beginning at noon
Noon Mayor Tom Barrett and City Librarian Paula Kiely kick off an afternoon of live programming.
12:10 p.m. Lincoln Center of the Arts Middle School Orchestra, Choir and Dance
Milwaukee Public School student performers pay tribute to
Dr. King's legacy.
1:05 p.m. Dr. Martin Luther King Jr's Beloved Community: Understanding Our Responsibility for Celebration
Dr. King promoted The Beloved Community as a difficult yet achievable goal for individuals and communities. Dr. Monique Liston of Ubuntu Research and Evaluation will lead a discussion about The Beloved Community as a practice that leads to change through an interactive workshop.
2:00 p.m. SistaStrings
Enjoy the soulful sounds of this classically trained musical duo.
2:30 p.m. Mini Step Show
Enjoy a performance by Milwaukee Public School's Delta Sigma Nu high school fraternity and sorority.
2:35 p.m. Alpha Phi Alpha Trivia Contest
Learn facts about the civil rights movement and earn prizes.
3:00 p.m. Popular music band Cigarette Break performs cherished musical numbers.
End the day with a slice of cake in honor of Dr. King's 90th birthday (while supplies last).