About MPL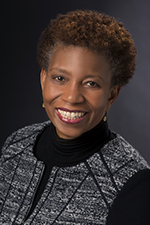 Welcome from City Librarian Paula Kiely
We're eagerly awaiting the arrival of our next Library Loud Days event - Haunted Central!
Spiders, bats and ravens have already taken over the Central Library in anticipation of the event on Saturday, Oct. 22 from sunset to 10 p.m. and Sunday, Oct. 23 from 1-5 p.m.
This free family fun event encourages everyone to come to Central and get LOUD with a showing of the camp classic "The Blob," a candy haunted house craft, stargazing on the Green Roof (Saturday night only), a display of some of the library's classic horror movie posters, a literary SCREAM contest, and best of all, a tour of the forbidden fourth floor!
We're enjoying the opportunity to find fun ways to reinvent the old ideas of libraries with the Library Loud Days concert and now our Haunted Central. Your Milwaukee Public Library is continuing to look for new ways to serve, educate, and entertain while continuing to offer access to the books, media and online resources we've always maintained for our customers.
Join us for a weekend of hauntingly good fun this month and get to know your library all over again!
Vision
MPL is an anchor institution that helps build healthy families and vibrant neighborhoods – the foundation of a strong Milwaukee.
Mission
Inspiration starts here – we help people read, learn, and connect.
Strategic Plan
MPL 2020 Our Plan for the Future