About MPL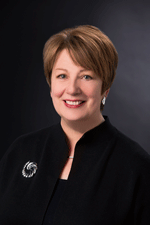 Welcome from Library Director Paula Kiely
We want your kids to read! It's as simple as that – read, all summer long. And summer reading is a great way to spend time together as a family.
Milwaukee Public Library has a great summer of reading and special events for all ages. I hope all Milwaukee families will sign up for the Summer Reading Program and join in the fun. There is an overwhelming amount of research which shows the most critical time to build brain connections is in the first three years of a child's life. That's why the library offers many opportunities for families with babies and toddlers to come to the library to play and learn. These programs are carefully thought out to engage not only the child, but to also engage the parents and inform them of ways they can develop their child's intellect and social development at home, in the car and on the go.
Milwaukee Public Library continues to support families by providing a variety of programs for children and teens that are designed to match their developmental needs and to help move them further in their developmental gains. The library does all this in a fun and engaging atmosphere because that is how we all learn best.
In addition to weekly Summer Reading Programs for children at Milwaukee Public Libraries, we're looking forward to a special two-month celebration of Maurice Sendak as Central Library hosts the 50th Anniversary Maurice Sendak Exhibit. We'll have special story times, stuffed animal sleepovers, and Wild Rumpus nights for children and families, and two special programs for adults as well.
So sit down with your child and pick out what programs and events you'll be attending this summer by browsing our summer calendar of events. Make sure your library cards are up-to-date and sign up all the children in your life for the Summer Reading Program. We want all children to develop a reading habit and it starts with parents modeling good reading habits, so make sure your home is filled with reading material this summer, visit the library on a regular basis and encourage your child to spend at least fifteen minutes per day actively engaged in reading. Have a great summer and we hope to see you in a neighborhood library soon.
Vision
MPL is an anchor institution that helps build healthy families and vibrant neighborhoods – the foundation of a strong Milwaukee.
Mission
Inspiration starts here – we help people read, learn, and connect.
Strategic Plan
MPL 2020 Our Plan for the Future