About MPL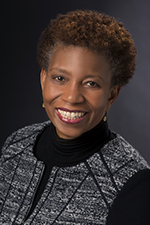 Welcome from City Librarian Paula Kiely
Milwaukee Public Library is getting ready to take part in MKE Big Read featuring "In the Time of the Butterflies" by Julia Alvarez. The kickoff is scheduled for Saturday, April 8, 11 a.m.-1 p.m. at Central Library.
There is a wide variety of programming scheduled to celebrate MKE Big Read this year. Visit our web page to find out more about acclaimed author and poet Julia Alvarez when she joins Milwaukee in a discussion of her MKE Big Read title broadcast via Skype in Central Library's Centennial Hall.
Attend a dance workshop at the Bay View Branch, a flower arranging workshop at the Tippecanoe or East Branch, book discussions, film screenings, art workshops, and children's programs throughout the city. Ex Fabula will present workshops in both English and Spanish, culminating in a MKE Big Read Bilingual Story Slam in Centennial Hall on May 4.
Pick up a copy of "In the Time of the Butterflies" at your library and join in the MKE Big Read fun this spring!
Vision
MPL is an anchor institution that helps build healthy families and vibrant neighborhoods – the foundation of a strong Milwaukee.
Mission
Inspiration starts here – we help people read, learn, and connect.
Strategic Plan
MPL 2020 Our Plan for the Future