About MPL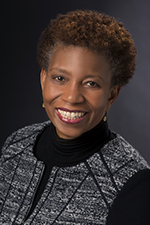 Welcome from City Librarian Paula Kiely
Milwaukee Public Library has released the MPL 2020 Progress Report, an update on the plan we developed to provide strategic, relevant and forward-looking library services for the community. The plan has helped us stay focused in meeting the interests and needs of our patrons.
After identifying three market segment groups - Young Families, Global Roots, and Traditional Living - we developed eight citywide strategies that would further our mission to help the people of Milwaukee read, learn and connect.
The report provides a broad overview of programs, projects and services the Library has provided including the implementation of ASK stations; LibraryNow, job fairs, Library Loud Days, and a host of programs for all ages. And of course, there is our branch library redevelopment project which most recently included the opening of the new Mitchell Street Branch.
I hope you'll have an opportunity to take a look at the progress report to see all that your Milwaukee Public Library has done, and will continue to do, to keep you informed, entertained, and connected to your community.
Vision
MPL is an anchor institution that helps build healthy families and vibrant neighborhoods – the foundation of a strong Milwaukee.
Mission
Inspiration starts here – we help people read, learn, and connect.
Strategic Plan
MPL 2020 Our Plan for the Future