About MPL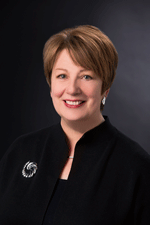 Welcome from Library Director Paula Kiely
Each year the Benjamin Franklin Award recognizes those who make significant contributions to the community and the cause of literacy and lifelong learning. In 2015, the 27th-annual Benjamin Franklin Award will be presented to Dr. Mary Meehan, President of Alverno College and Greg Oberland, President of Northwestern Mutual at a Thursday, October 22nd dinner celebration at Central Library.
The event also allows us the opportunity to showcase the Central Library in a magical evening after hours, and to get together with so many people throughout the city who love and support the library.
Proceeds from the event directly benefit the Milwaukee Public Library Foundation which supports early childhood literacy, technology programs and collections. Through their wonderful work, we're able to provide and abundance of programs, workshops, materials and special events – such as the recent Sendak Exhibit.
I invite you to visit your library often to take advantage of all the Milwaukee Public Library has to offer!
Vision
MPL is an anchor institution that helps build healthy families and vibrant neighborhoods – the foundation of a strong Milwaukee.
Mission
Inspiration starts here – we help people read, learn, and connect.
Strategic Plan
MPL 2020 Our Plan for the Future