Milwaukee Poet Laureate
The Milwaukee Poet Laureate project, initiated in February 2000, is a program of the Milwaukee Public Library, funded by the Friends of the Library, and administered by Woodland Pattern.
The project committee selects a local poet to serve as Milwaukee Poet Laureate for a two-year term. The poet laureate makes several guest appearances during the term, promoting poetry throughout the community.
2017-2019 Poet Laureate: Roberto Harrison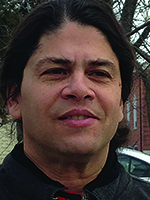 Roberto Harrison has been named the 2017-2019 Milwaukee Poet Laureate. His books include Os (subpress, 2006), Counter Daemons (Litmus Press, 2006), bicycle (Noemi Press, 2015), culebra (Green Lantern Press, 2016), Bridge of the World (Litmus Press, forthcoming 2017), and Yaviza (Atelos, forthcoming 2017), as well as many chapbooks.
His work has been published widely in journals and anthologies such as Chicago Review, Mandorla, Palabra, Puerto del Sol, Cream City Review, Callaloo, and Best American Experimental Writing 2015. With Andrew Levy, Roberto edited the poetry journal Crayon from 1997 to 2008, and he is also the editor of Bronze Skull Press which has published over 20 chapbooks, including the work of many Midwestern poets. Most recently Roberto served as a co-editor for the Resist Much/Obey Little anthology. For several years, he hosted Milwaukee's Enemy Rumor poetry reading series. Roberto is also a visual artist.
Past Milwaukee Poets Laureate
John Koethe 2000-2001
Antler 2002-2003
Marilyn Taylor 2004-2005
Peggy Hong 2006-2007
Susan Firer 2008-2009
Brenda Cárdenas 2010-2011
Jim Chapson 2013-2015
Jeff Poniewaz 2013-2015
Matt Cook 2015-2017