Resilient Communities: Libraries Respond to Climate Change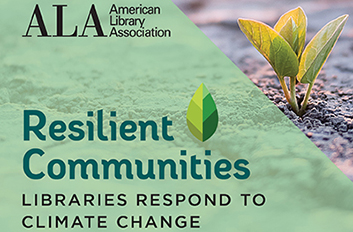 Milwaukee Public Library has been selected as one of 25 U.S. libraries to participate in Resilient Communities: Libraries Respond to Climate Change, an initiative of the American Library Association (ALA) that will help libraries engage their communities in programs and conversations on the climate crisis.
Resilient Communities strives to raise awareness and provide accurate information about the climate change crisis to the public through libraries. The pilot project has been funded by a generous grant from Andrew and Carol Phelps, the parents of a public librarian and a library master's student.
Learn more about how Milwaukee Public Library supports a climate resilient Milwaukee!
Climate Change Book Club [pdf]
A new book club bringing together folks to listen, learn, and discuss sustainability
and climate change. Build your climate change knowledge, uncover untold stories,
and be inspired to action.
Unraveling the Mysteries of the Flint Water Crisis: A Talk with Pediatrician and Author Dr. Mona Hanna-Attisha
Dr. Hanna-Attisha's book, What The Eyes Don't See: A Story of Crisis,
Renaissance and Hope in an American City, details her experience uncovering the lead-poisoning epidemic caused by a switch in Flint's water supply. The New York Times has named What The Eyes Don't See as one of the 100 Most Notable books of 2018.
Extreme Weather Preparedness [pdf]
Questions? Contact Programming Librarian Kristina at klgomez@milwaukee.gov
Programs
January 25, 2021
6:00 PM
This new book club will bring folks together to listen,…
January 27, 2021
February 22, 2021
6:00 PM
This new book club will bring folks together to listen, learn,…
March 19, 2021
March 29, 2021
6:00 PM
This new book club will bring folks together to listen, learn,…
April 26, 2021
6:00 PM
This new book club will bring folks together to listen, learn,…