Gathering Art, Stories and Place
The City of Milwaukee has been selected as a recipient of a grant of $150,000 from the National Endowment of the Art (NEA) to fund the Gathering Art, Stories and Place (GASP) at the Mitchell Street Branch (906 W. Historic Mitchell St.). Led by Milwaukee Public Library and Artists Working in Education, the project is supported by Ex Fabula as well as other nonprofits, schools and community centers.
With this grant, the project team will utilize the library's maker space and other indoor and outdoor gathering spaces to host a variety of storytelling-themed programs, including a visual storytelling festival featuring deaf storytellers, an artist lecture series, writing workshops, a new archive of collected neighborhood stories, and two artist-in-residence programs. A mobile art studio accessible to youth is also planned, providing free art education and cultural enrichment activities.
The plans, developed in partnership with the Department of City Development and the Milwaukee Arts Board, create a unique hub for creative expression and cultural discourse will empower neighbors to create, share, and celebrate cultural diversity through storytelling and art.
This project is in collaboration with community partners, Milwaukee Public Library, Listening to Mitchell artists Sonja Thomsen and Adam Carr, Ex Fabula and Artists Working in Education, Inc. The project is supported in part by an award from the National Endowment of the Arts, with additional support from the Milwaukee Public Library Foundation.

---
Events

Milwaukee Public Library Mitchell Street Branch
Northwestern Mutual Foundation Studio M
906 W. Historic Mitchell Street
Monday, March 18, 5:30-7:30 p.m.
The Chinese Lady will be playing at Milwaukee Repertory Theater's Stiemke Studio from February 13 thru March 24. The Chinese Lady tells the story of Afong Moy, a Chinese immigrant who was brought from Beijing to America and put on display as the 'Chinese Lady.' Over the next 45 years, she performed in a side show that both defi ned and challenged her own view of herself, as she witnessed stunning transformations in the United States.
Dumplings and Dialogue is a part of Milwaukee Repertory Theater's Power & Money discussion series which continues conversation around the themes their plays explore. A pop-up preview by a member of the cast will set up the dialogue with a sneak peek of the performance.
Chinese food is an integral part of American identity and cuisine, and sheds light on the fraught history of US immigrant culture. Learn to cook Chinese dumplings while also learning about the history of Chinese food in the United States. Then sit down to dinner for a guided discussion with Zeidler Center for Public Discussion facilitators to talk about cultural appropriation and appreciation. Participants age 16+ are enthusiastically encouraged to attend.
Seating is limited; please register at: http://tinyurl.com/dumplingsmitchell or by calling 414.286.3053. Participants who would like to see The Chinese Lady before Monday, March 18 may use the discount code: ENGAGE for 20% off the regular-priced tickets.
---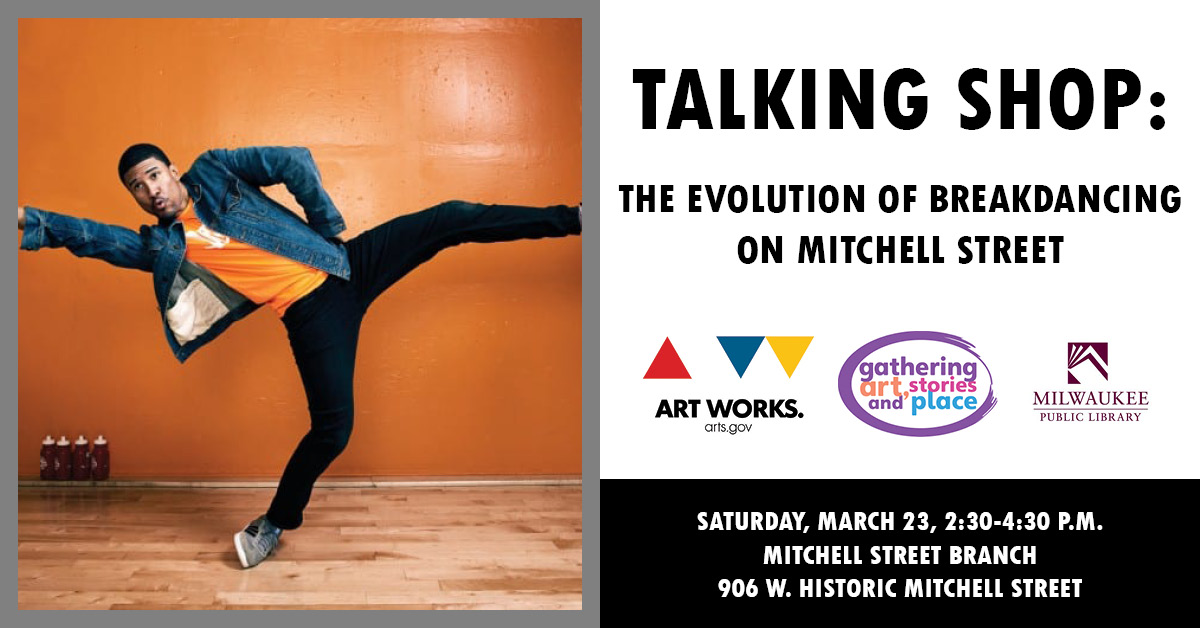 Milwaukee Public Library Mitchell Street Branch, Community Room
906 W. Historic Mitchell Street
Saturday, March 23, 2:30-4:30 p.m.
The Gathering Art, Stories and Place project is excited to host the next installment of our Talking Shop series, focusing on the evolution of breakdancing and hip hop dance on Mitchell Street.
Join us for a roundtable conversation featuring some of Milwaukee's breakdancing pioneers representing different waves of breakers. There will be breakdancing demonstrations and a lesson on breaking. We are also issuing an open invitation to any and all breakers to share memories and stories.
Our emcee for the afternoon will be Cedric Gardner, who first gained national attention in 2007 when he was a finalist on So You Think You Can Dance. Since then, he's danced in films such as Step Up 3D, worked on choreography for the Fox show Empire and made appearances on Nickelodeon's Yo Gabba Gabba! Now back in Milwaukee, Cedric works at the Don & Sallie Davis Boys & Girls Club, teaching 7 to 18-year-olds to pop, lock and air-walk.
---

The 2019 Gathering Art, Stories and Place artist residency in collaboration with Artists Working in Education, Inc. will begin with workshops focusing on books. Together we will explore codexes, zines, artist journals, artist books, traditional books and non-traditional books. Each participant will be able to create a book in numerous forms as well as learn and interact with artists, art books and art forms. In these workshops, we will explore various questions about storytelling and book making: What do I want to say? What is my story? How do I tell a story? What is a book? and more!
Resources will be provided for participants. Join us as we create, tell and share stories.
---