A Library Loss of Titanic Proportions: a Tale of Our World Language Collection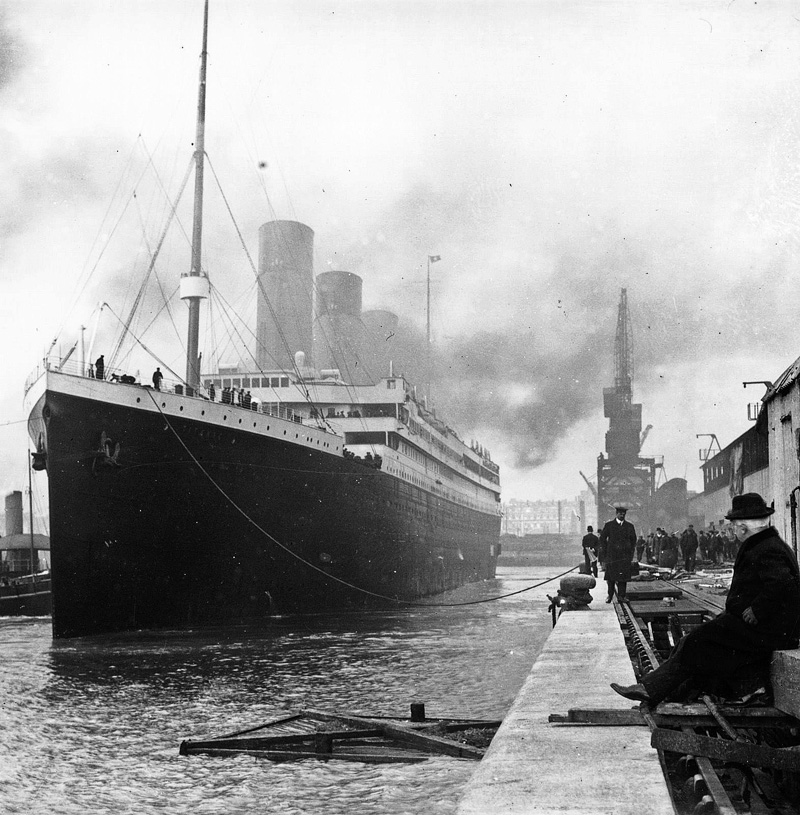 2,344 people, including immigrants searching for a better life, sailed on the maiden voyage of the RMS Titanic as it left the British port of Southampton 105 years ago on April 10th, 1912. Coworker Dave Lathrop searched for a death notice that an out-of-state genealogist requested through DITTO, a copy service of the Milwaukee Public Library (MPL). He found it in the April 20th, 1912 Milwaukee Sentinel. During the search, a small article about some foreign periodicals and French and German books being shipped to the library on the ill-fated Titanic caught his eye.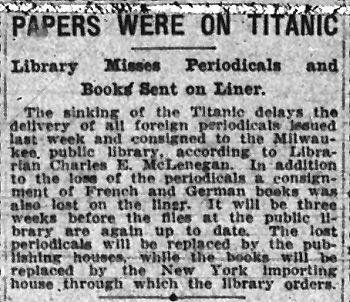 Milwaukee Sentinel, April 20th, 1912
The 1910 Census recorded 78.6% of Milwaukeeans were immigrants or were children of immigrants, which was the highest percentage among the 28 largest American cities. 53.5% of Milwaukeeans were German, making them the largest ethnic group by far. The "Machine Shop of the World" was the most Germanic city in the U.S. and nicknamed the "German Athens."
Public libraries were dubbed "the people's university" during the early 1900s. The Milwaukee Public Library lent books in the languages of newcomers and helped them learn English, become citizens and assimilate into American society. Foreign language books in German, Polish, Yiddish and Hebrew were heavily used.
Today, MPL continues to meet those needs with English as a Second Language (ESL) books, kits and DVDs, and foreign language books. The World Language Collection at the Central Library has books in 35 languages, including Malay, Swahili, Punjabi and Jamaican Patois, in addition to many European languages.
MPL branch libraries have world language collections. Many of them have libros en Español (books in Spanish). Some have small collections geared toward the ethnic demographic of the neighborhoods they serve. For example, East has a Russian collection, Tippecanoe has an Arabic collection, and Forest Home, Mill Road and Washington Park have books in Hmong.
By the way, you can borrow books and DVDs about the Titanic in French and Spanish.
Dan, Local History Librarian