Vel Phillips: Political Trailblazer From Milwaukee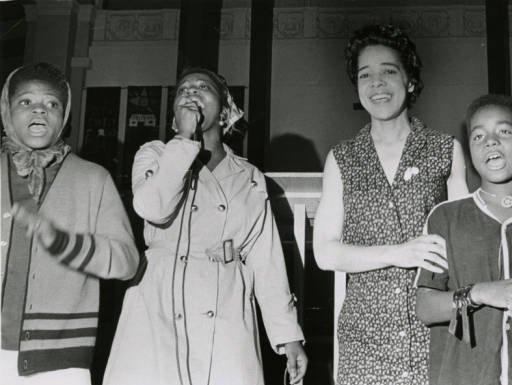 Vel Phillips visits St. Boniface Church, July 1967
Velvalea Rodgers was born on 18 February 1924 on Milwaukee's South Side. She attended North Division High School, graduating in 1942, then received a scholarship to attend Howard University. After graduation, she attended University of Wisconsin - Madison Law School. Upon her graduation in 1951, she was the first female African-American graduate of the law school. Known as "Vel," she and her husband, W. Dale Phillips, were the first husband-wife attorneys to be admitted to the federal bar in Milwaukee.
Mrs. Phillips first ran for political office in 1953, when she sought a seat on the school board. Though she lost the election, she was the first African-American candidate to make it past the primary. In 1956, Phillips ran as a candidate for alderman and won. Vel Phillips was the first woman and the first African-American alderperson in Milwaukee history. She served on the Common Council for fifteen years, most notably introducing the Phillips Housing Ordinance, a strong citywide open housing program, four separate times between 1962 and 1967. This ordinance was finally passed in 1968 after the dramatic events of the summer of 1967, when massive civil rights protests engulfed Milwaukee.
In addition to fair housing, Phillips also worked to end discriminatory practices in education and employment. In 1971, Phillips stepped down as alderwoman. She was then appointed a Milwaukee County judge, achieving two more "firsts"; the first female judge in Milwaukee and the first African-American judge in Wisconsin. Though she lost her bid for re-election as judge, Phillips continued working as a lecturer and instructor at UW-Milwaukee, UW-Madison, and Carroll College.
In 1978, she again made history as the first woman and African American elected Secretary of State in Wisconsin. After leaving office, Phillips continued to remain active politically and professionally. She served on several boards, was appointed "Distinguished Professor of Law" at Marquette University School of Law in 2002, and she was the honorary chair of Gwen Moore's successful congressional campaign.
To continue working for equality and opportunity, Phillips created the Vel Phillips Foundation in 2006, which works on behalf of minorities through social justice, education, equal housing opportunities, and jobs. Vel Phillips has been honored as the recipient of the Robert and Belle Case La Follette Award for Distinction in Public Service, as a Wisconsin Historical Society "History Maker," and as the namesake for a UW-Madison residence hall.
Milwaukee Public Library has many materials that document the work of Vel Phillips. There is a small collection of images in the Local History Manuscript collection (finding aid available online in our Special Collections Finder database), images in the Historic Photo collection, Common Council records, and books such as Patrick D. Jones' Selma of the North : Civil Rights Insurgency in Milwaukee that document her role in the civil rights movement in Milwaukee. Please contact the Humanities Department at 414-286-3061 to view these materials.
Submitted by Louise at Central.