The Milwaukee Roots of Charlotte Rae Lubotsky
Charlotte Rae might not have had box office hits like fellow Milwaukee native Gene Wilder or won an armful of awards as Mark Rylance did, but she starred as Mrs. Garrett in the 1980s NBC hit sitcom The Facts of Life.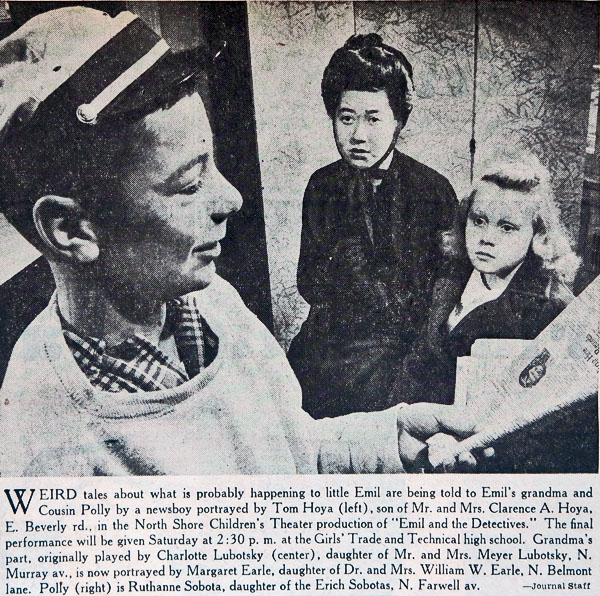 The Milwaukee Journal, January 20th, 1944
The veteran trouper was born Charlotte Rae Lubotsky on April 22nd, 1926 to Meyer and Esther Lubotsky. The family lived above the Meyer Stores (tires and appliance) at 384 12th St. (Post-1930 address: 1232 N. 12th St. appeared as 1234 N. 12th St. in city directories and phone books) on the edge of the Haymarket neighborhood. The two-story building was razed in the 1960s for US 141 (I-43) freeway construction. She attended the Siefert School at 1547 N. 14th St.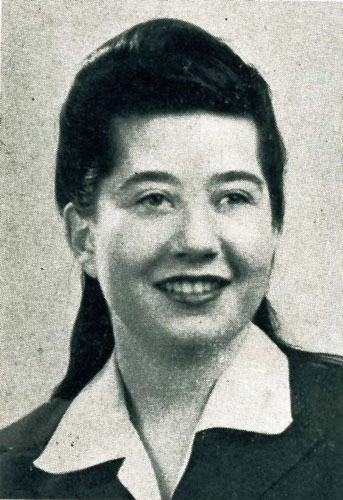 Charlotte Lubotsky, 1944 Shorewood High School Copperdome Yearbook
They moved to 4431 N. Murray Ave. in Shorewood in 1936 as her father's business prospered. Lubotsky attended Lake Bluff Elementary School and Shorewood High School. She joined the Dramatic Club, where she shined as Susan in Quality Street. She also acted with the North Shore Children's Theater and Port Players. She graduated in 1944 with classmate and future Milwaukee Admirals owner Lloyd Pettit. She attended Northwestern University to major in speech and starred in the drama department's musical productions. She also acted in NBC radio soap operas in Chicago.
After Lubotsky graduated with a Bachelor of Arts degree in 1948, she went to New York where an agent "chopped" off her last name for Broadway. She returned home to visit family and performed at Brynwood Country Club (Wisconsin Club's Country Club) in 1951, a Hadassah luncheon in 1970 and was the grand marshal in the 1983 City of Festivals Parade.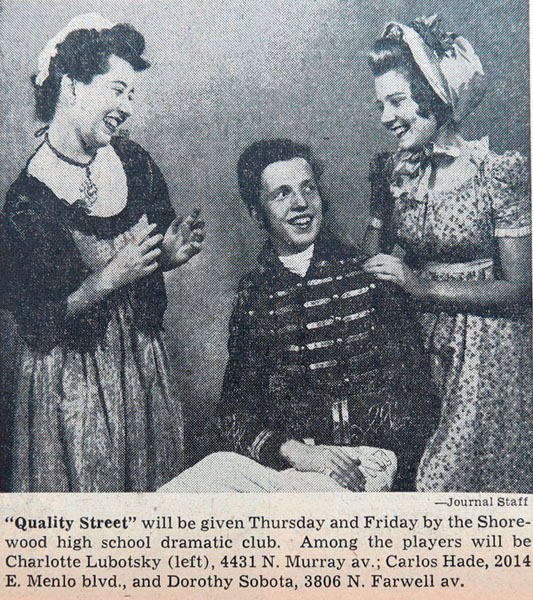 The Milwaukee Journal, October 27th, 1943
Charlotte wasn't the only member of her family to be locally prominent. Besides being a successful merchant, her father Meyer was active in Milwaukee's Jewish community. He donated land at N. 51st Blvd. and W. Silver Spring Dr. and helped raise funds for building the Milwaukee Jewish Convalescent Home in the early 1950s for recovering patients being discharged from Mount Sinai Hospital (Aurora Sinai). The home merged with the Milwaukee Jewish Home in 1994 to form the Jewish Home and Care Center. The old building now houses Bell Therapy. Many Milwaukeeans bought tires from her uncle's Charles Lubotsky Tire shop chain from the 1940s to 1980s.
The Art, Music & Recreation Room at the Central Library has a clippings file on Charlotte Rae. In addition to her autobiography, The Facts of My Life, you can borrow her 1955 LP, Songs I Taught My Mother, and play it on a turntable.
Dan, Local History Librarian