The Milwaukee Roots of Jerry Silberman (Gene Wilder)
Earlier this year, we celebrated Milwaukee-raised Mark Rylance winning an Oscar. Now we remember Jerry Silberman, who started acting in Milwaukee. He grew up in the Sherman Park and N. 51st Blvd. (originally Sheridan Blvd.) neighborhoods. The latter continues to be home for a vibrant Jewish community.
He attended Sherman School, and Sholes and Peckham Jr. High Schools. Jerry not only followed his older sister Corinne to Washington High School, but also followed her into acting. He was the vice president of the Players drama club, member of the Alphanea forensics club and a cafeteria monitor.
Silberman successfully auditioned for the Milwaukee Players, part of Municipal Recreation (now Milwaukee Recreation), and made his acting debut playing Balthasar in Romeo and Juliet on April 7th, 1949 at the Wisconsin Avenue School. In addition to high school plays, he performed for the Van Buren Players and Wisconsin College of Music (now Wisconsin Conservatory of Music).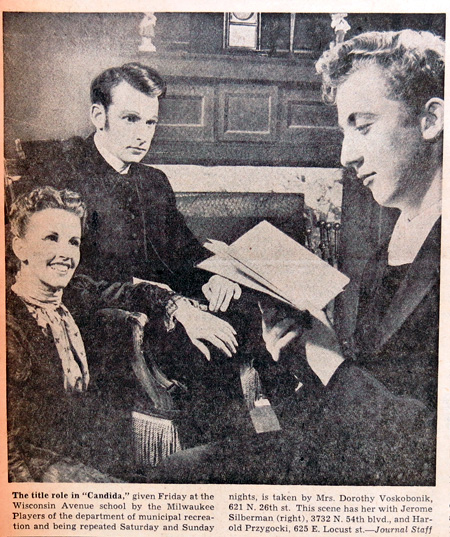 The Milwaukee Journal, July 16th, 1949
Jerry and Corinne saw Lee J. Cobb star in Arthur Miller's classic The Death of a Salesman on Broadway in 1949. After returning home, he and his classmates Frances McCrory and Art Brooks performed an abridged version of it at community gatherings, such as the Shorewood Woman's Club. 17 years later, Wilder appeared with Cobb in the acclaimed CBS telecast.
Silberman graduated from Washington in 1951, a year before Herb Kohl and Bud Selig, who also lived in the same 51st Blvd. neighborhood. These three noteworthy alumni graduated from what was then the crown jewel of the Milwaukee Public Schools system in a 12-month period.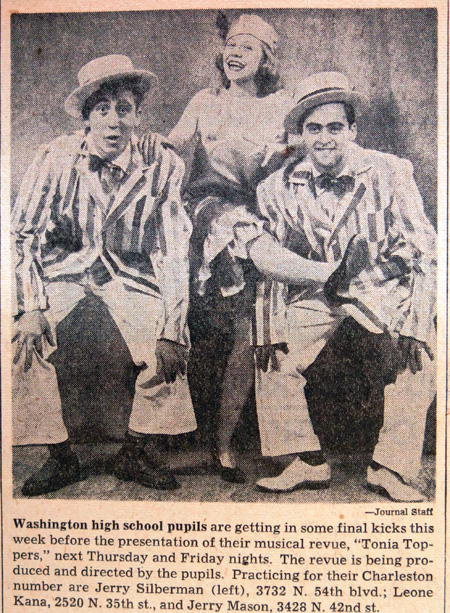 The Milwaukee Journal, November 8th, 1950
Jerry followed Corinne to the well-respected theater program at the University of Iowa. After a stint in the army, he made his way to Broadway, where a million lights flicker, and started becoming Gene Wilder.
The Art, Music & Recreation Room at the Central Library has a news clippings file on the local boy made good.
Shaw & Lee, "The Beau Brummels" @ Central (Dan, Local History Librarian)