Resilient Communities: Libraries Respond to Climate Change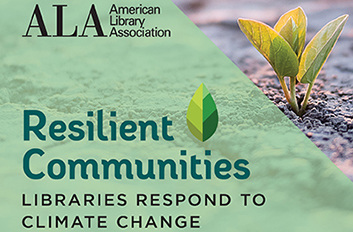 Milwaukee Public Library has been selected as one of 25 U.S. libraries to participate in Resilient Communities: Libraries Respond to Climate Change, an initiative of the American Library Association (ALA) that will help libraries engage their communities in programs and conversations on the climate crisis.
Resilient Communities strives to raise awareness and provide accurate information about the climate change crisis to the public through libraries. The pilot project has been funded by a generous grant from Andrew and Carol Phelps, the parents of a public librarian and a library master's student.
Learn more about how Milwaukee Public Library supports a climate resilient Milwaukee!
Climate Action Booklist [website] [printable pdf]
A book club bringing together folks to listen, learn, and discuss sustainability and climate change. Build your climate change knowledge, uncover untold stories, and be inspired to action.
Extreme Weather Preparedness [pdf]
Questions? Contact Librarian Kelly Bolter at kjbolte@milwaukee.gov
Programs
No upcoming events found. Check back soon!