Book a Business Librarian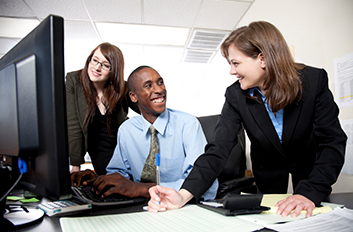 Have a business question? Ask a business librarian!
Work one-on-one with Milwaukee Public Library Business Librarians as they guide you through the library's business resources. Librarians can help you identify and/or locate resources to help you get started on your business plan, identify your customers and competitors, give tips on creating marketing materials, and more!
By appointment only, please see a librarian for more details.
When you work with a librarian, they will ask for your area of interest for the session from the following:
Business Plan
Marketing
Competitor and Industry Profile
Customer Profile
A Milwaukee Public Library Database
For a list of the available Milwaukee Public Library databases please visit our Business Research page.
Trabaje privadamente con los bibliotecarios de negocio de La Biblioteca Pública de Milwaukee mientras le guían por los recursos de negocio ofrecidos por la biblioteca. Los bibliotecarios le pueden ayudar a empezar su plan de negocio, identificar a sus clientes y competidores, dar consejos de cómo crear materiales de mercadotecnia, ¡y más!
Contacte a Laura en MPLBusinessLibrarians@milwaukee.gov para programar una cita. Favor de permitirnos un periodo de 2 semanas para la programación de su cita.
Cuando nos contacte, le pediremos su área de interés para su cita. Ofrecemos ayuda de los temas a continuación:
Plan de negocio
Mercadotecnia
Perfil de competidor o industria
Perfil de cliente
Demostración de una de las bases de datos de La Biblioteca Pública de Milwaukee
Para ver una lista de las bases de datos disponibles, favor de visitar la página de Business Research
Book a Business Librarian F.A.Q.
Sessions are customized for a one-on-one experience and will be based on your research needs as discussed with a business librarian prior to your session.
Please call the Business & Technology desk at 414-286-3051 - staff will take your information so a business librarian can call or e-mail you back to schedule your appointment. Please allow at least two weeks for scheduling.
Two sessions per patron per calendar year may be scheduled.
Sessions are held in Central Library's Business & Technology department.
You may bring one additional person with you for your session. Anyone under than 18 years old must have a parent or legal guardian accompany them. Please see our Small Business Resources 101 workshop for larger groups.
Please call the Business & Technology desk at 414-286-3051 to cancel your appointment. Please see disclaimer at the bottom.
Disclaimer
When an appointment is scheduled, that time has been set aside for that individual. If the session is missed, that time cannot be used to assist another patron. If the session is missed without prior notice the individual will not be able to schedule another appointment for three months. If sessions are repeatedly missed individuals will not be able to schedule any future appointments.