Personal Finance: Get Smart About Money
Are you ready to get smart about money?
Milwaukee Public Library has resources that can help you reach your personal financial goals.
Whether you're looking to buy your own home, invest for college, or get out of debt, we want to help.
Investment Database
For complete stock and investment research, turn to Value Line. Online access to the Investment Survey is available. The Investment Survey, Small & Midcap Survey, and Special Situations Service, are all available in print at the Business & Technology Room at the Central Library. Available to City of Milwaukee library card holders.
Personal Finance Basics
For information on budgeting, buying a car, dealing with debt, avoiding scams, and more the FTC Consumer Information website is a great resource.
Consumer Financial Protection Bureau
The CFPB provides tools to make better financial decisions regarding budgets, banking products, and long term goals. The Ask CFPB tool provides impartial answers to many financial questions. The organization also works to protect consumers regarding financial products.
Federal Financial Literacy and Education Commission
The website mymoney.gov provides materials from a collection of agencies focused on improving financial literacy skills. The website provides information on earning, borrowing, saving, and investing for all ages.
Financial Industry Regulatory Authority
FINRA provides basic protections and unbiased tools for investors. The website includes budgets, calculators, and general information on college savings, retirement, investments, and financial scams.
Turn to Gale Legal Forms when performing do-it-yourself Wisconsin legal work. Types of forms included are those used for divorce, wills & estates, real estate, bankruptcy, power of attorney, name changes, landlord & tenant, paternity and small business. Sample letters are also available to use as models. The forms in this database are integrated with the Gale Small Business Builder product to help small business owners meet legal requirements of starting a business. Available to City of Milwaukee library card holders.
For one week each spring organizations around the country focus on providing financial information, including many libraries. Any time of year you can review financial resources on the Money Smart Week website and review past events.
Credit Counseling/Bankruptcy/Identity Theft
A resource provided by the Federal Trade Commission, you can report identity theft and get assistance with a recovery plan.
Identify Theft Resource Center
ITRC is a national resource center providing victim assistance at no cost to consumers throughout the U.S. If you believe you are the victim of identity theft you can contact the ITRC Victim Assistance Center Toll Free (888) 400-5530. The ITRC website also includes information on medical identity theft, child ID theft, and more.
National Foundation for Credit Counseling
NFCC is the nation's largest financial counseling organization with more than 600 community-based offices located in all 50 states and Puerto Rico. NFCC Member Agencies provide financial counseling and education to millions of consumers each year in person, over the phone, or online. To locate an NFCC Member Agency in your area call 800-388-2227. Para ayuda en Español Ilama al 800-682-9832.
You are entitled to receive one free copy of your credit report from the United States' official website, AnnualCreditReport.com. You may also request a report by phone by calling 1-877-322-8228. In addition, the postal mail address for requesting a report is:
Annual Credit Report Request Service
P.O. Box 105281
Atlanta, GA 30348-5281
Through this website you can get a copy of your credit report from the three main credit reporting agencies; Equifax, Experian, and Transunion.
Explore Our Suggestions:
Recently Added
How to Make Your Money Last
by Jane Bryant Quinn
Quinn tells you how to squeeze a higher income from all your assets, including your social security account, pension, your home equity, savings, retirement accounts, and how much of your savings you can afford to spend every year without running out.
View on CountyCat
Get Good with Money
by Tiffany Aliche
Ten short-term steps that can lead to long-term financial security, including best practices for budgeting and saving as well as investing, getting a handle on your credit score and calculating insurance.
View on CountyCat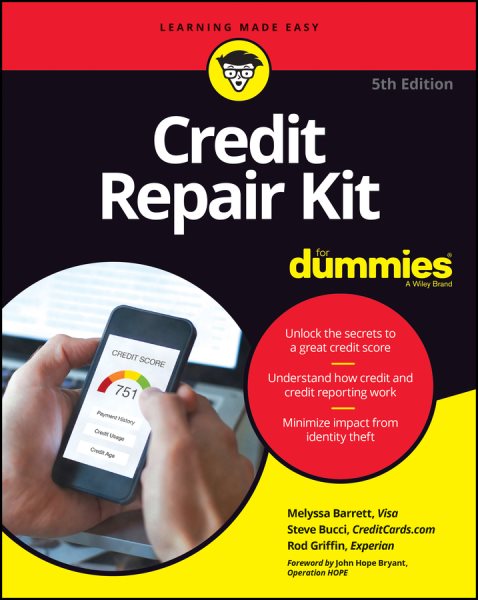 Credit Repair Kit
by Melyssa Barrett et al
Need a credit makeover? You're not alone: Millions of Americans are struggling with one or more credit-related issues. This is packed full of simple, proven methods for escaping the quicksand and taking the steps needed to build up a solid score.
View on CountyCat
Investing
by Eric Tyson
This up to date book educates you on investing concepts and lingo so you can make the best decisions in all economies and markets.
View on CountyCat
Retirement Planning
by Matt Krantz
A resource for planning for retirement that removes the guesswork and explains the critical steps need, including how to take stock of your finances, proactively plan for your financial future and use online tools to make planning easier.
View on CountyCat
The Intelligent Investor
by Benjamin Graham
Analyzes the principles of stock selection and various approaches to investing, and compares the patterns and behavior of specific securities under diverse economic conditions.
The Ultimate Retirement Guide for 50+
by Suze Orman
No-nonsense advice and practical tools you need to plan wisely for your retirement in today's ever-changing landscape. You'll find new rules for downsizing, spending wisely, delaying Social Security benefits, and more - starting where you are right now.
The Power of Passive Income
by Entrepreneur Press
This will teach readers 12 simple, safe, low-cost and low-effort strategies for setting up and activating passive income vehicles in a range of sectors like real estate, franchising, and direct sales marketing.
View on CountyCat
Value Investing
by Bruce C. Greenwald, et al
Provides the fundamentals of value investing as practiced by the greatest value investors, such as Warren Buffet, Michael Price, Mario Gabelli, and Walter Schloss. The authors explore its history, explain its underlying principles, and set guidelines.
View on CountyCat
NOLO Credit Repair
by
Incorporating extensive new coverage of student loan forgiveness and changes to federal laws, a latest edition outlines comprehensive steps for taking control of personal finances, cleaning up a credit report and rebuilding credit.
View on CountyCat