About MPL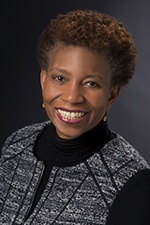 Welcome from City Librarian Paula Kiely
It was wonderful to see so many of you at the grand opening of the new Mitchell Street Branch. The new library - our largest branch - has generated a lot of interest in the neighborhood and from the media. With features like flexible open spaces, a cozy reading area with fireplace, laptops for check out and use in the library, and designated spaces and collections for adults, children and teens, the new branch is a welcome addition to the community.
The high-tech makerspace on the ground floor of the branch is a first for the Milwaukee Public Library and will offer users the opportunity to record and edit video and sound projects.
If you weren't able to join us, make plans to visit this extraordinary addition to the MPL family soon, and be sure to take advantage of all the programs, projects and services the library provides throughout the year.
Vision
MPL is an anchor institution that helps build healthy families and vibrant neighborhoods – the foundation of a strong Milwaukee.
Mission
Inspiration starts here – we help people read, learn, and connect.
Strategic Plan
MPL 2020 Our Plan for the Future