MPL Digital Library
Remember When
Jump to: More Information - Order Information - Order Form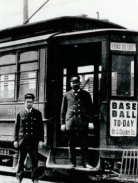 A popular feature of The Milwaukee Journal from 1963 through 1994 prepared by library staff to highlight Milwaukee's past as preserved in the Historic Photo Collection
Back to all Digital Collections
---
More Information
"Remember When..." was a popular newspaper feature of The Milwaukee Journal from 1963 through 1994. Published in the Green Sheet section of the newspaper on a twice-weekly basis until 1981 and weekly after that, the feature was prepared by Milwaukee Public Library staff to highlight Milwaukee's rich and colorful past as preserved in the Historic Photo Collection of the library.

Library staff selected historic photos from the Local History Collection, supplemented by favorite photos sent in by readers. Staff researched the topic and wrote a brief description that furthered the readers' appreciation for Milwaukee's heritage. This very popular series reminded some readers of times gone by and provided others with a historic tour of Milwaukee through the eyes of an earlier generation. Read more about the it in the "Remember When" collection finding aid.

The feature made its debut on November 13, 1963, and today the commentary itself is a snapshot of a bygone era. Many descriptions refer to people, places, buildings, and institutions that are only memories. Comments and suggestions from our readers have always been an integral part of the "Remember When" series.

Additional comments, corrections, or insights to these historic photos are always welcome. Now a new generation can enjoy a selection of these nostalgic snapshots of Milwaukee history that have entertained readers for decades.
---
Order Information
Copies of the images in this collection may be purchased. Orders must be placed online, using the online order form. The images are delivered in digital format via CD as 300 dpi TIFs. Due to the large size of each of the files, we offer CD-Rom but not e-mail delivery of images. The cost is $20 for the first 1-5 images in the same order (each additional image above 5 costs $4 per image), plus tax for Wisconsin residents (shipping of CD via standard mail is included).
Turnaround time is five business days, with rush service available for an extra fee. [Rush charges are 20% of order total from in-state requesters, 50% of order total from out-of-state requesters. Calculated after tax.] You will be billed approximately one month after delivery of your order, and may pay by personal check or money order.
Important Copyright Information
By providing or allowing reproduction of materials from the collections, the Milwaukee Public Library does NOT grant permission to publish or exhibit. Reproductions are provided for personal research purposes only. They may not be copied or distributed. Written permission to publish must be obtained from copyright or literary rights owner and from the library for any publication or commercial use of copies. The researcher is responsible for compliance with the US Copyright Code (title 12 USC) and privacy rights outlined in Title 45 CFR 46. For information on permission to publish, please contact the Humanities Department at 286-3061.
---
Order Form
Total price includes copy, mail or pickup at any desk requested.
Please note: Due to the large size of each of the files, we offer CD-Rom but not e-mail delivery of images. Not all Internet service providers permit handling of files this large.
Orders require accurate Title and Relation information in order to be processed. You will find these details in the Description section below each image in the digital collection.