MPL Digital Library
John F. Schrank Municipal Court Records
Jump to: More Information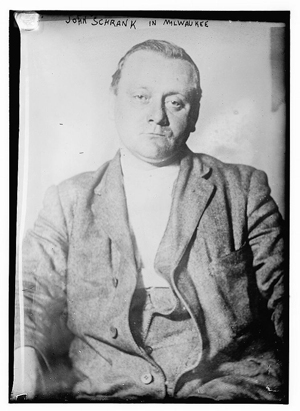 The documents of the Milwaukee Municipal Court trial of John Flammang Schrank, including Schrank's writings while in jail and written records of the physical examination of Schrank. Schrank attempted to assassinate Theodore Roosevelt in Milwaukee on October 14, 1912.
Back to all Digital Collections
---
More Information
John Flammang Schrank was born in Erding, Bavaria, on 5 March 1876 and immigrated to the United States at the age of 9. His parents died soon after, leaving Schrank to work for his aunt and uncle, New York tavern owners and landlords. Upon their deaths, Schrank's aunt and uncle left these properties to him. Schrank suffered yet another tragedy when his girlfriend, Emily Ziegler, died in the General Slocum disaster on New York's East River in 1904. He sold the properties and drifted around the East Coast for several years. He became profoundly religious and was a fluent Bible scholar with well-known debating skill. Schrank came to believe that Theodore Roosevelt should not run for a third term as President and began to follow him on the campaign trail.
Schrank attempted to assassinate Roosevelt outside the Gilpatrick Hotel in Milwaukee on 14 October 1912. The former President and presidential candidate was scheduled to deliver a speech at the Milwaukee Auditorium that day. Schrank had followed Roosevelt from New Orleans to Milwaukee. He shot Roosevelt in the chest. Roosevelt did not seek medical attention until after his speech and suffered only minor injuries. Schrank was arrested and pled guilty. The court declared him insane and he was transferred to the Central State Hospital for the Criminally Insane in Waupun, Wisconsin. Schrank remained there until his death on 15 September 1943. Prior to the assassination attempt he had caused no documented trouble.