MPL Digital Library
Jones Island Album
Jump to: More Information - Order Information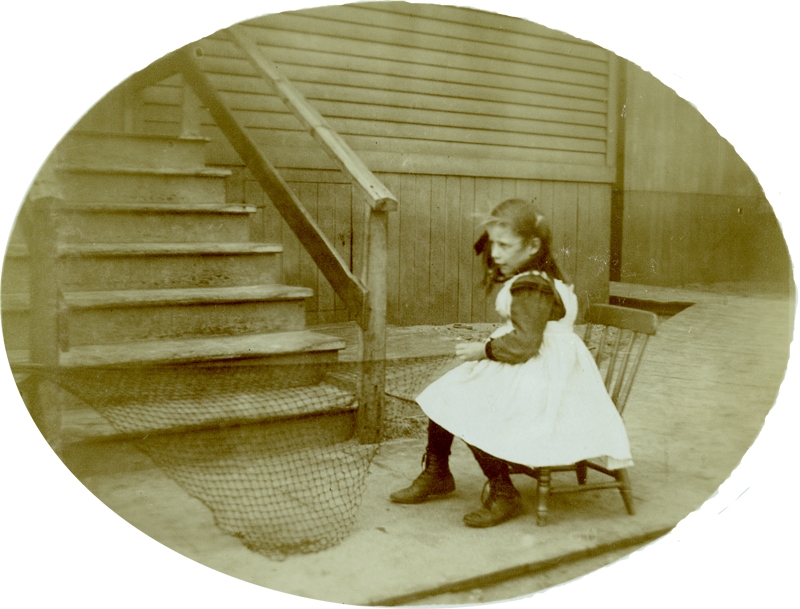 Photos from album entitled "Jones Island, March 1904 to April 1905". The photos were originally black and white but all have faded to shades of brown. They are mostly of Jones Island and the children who inhabited it. The photos were taken by one of their teachers, Flora Mae Karel (married name Templeton).
Back to all Digital Collections
---
More Information
Most of the 210 black and white photographs are approximately 5" x 4", with a handful of 6½" x 5" photos throughout. There are many photos of the interior of the school's kindergarten classroom. Also included are pictures of the lake and ships that came in and out of Milwaukee's harbor. The majority of the photos have been identified, all by the photographer. Image 145 does not exist. The last two pages of the album are not related to Jones Island, but are of friends and family of Flora Mae Templeton.
Jones Island is now an industrial peninsula in the Milwaukee Harbor. It was originally a marsh island between the Milwaukee and Kinnickinnic Rivers. The island gained its name from James Monroe Jones who opened a shipyard there in the 1850s. In the 1870s the island was settled by Kaszubians from Poland. The main industry on the island became fishing and Jones Island was Milwaukee's fishing village. The last of the Jones Islanders were pushed off the island in the 1940s. In the time between when the island was settled and when its final inhabitants left, a pumping station, trash incinerator, sewage treatment plant, car ferry, shipping buildings, and docks had all been added to the island.
---
Order Information
Copies of the images in this collection may be purchased. Orders must be placed online, using your Special Collections account. The images are delivered electronically. The cost is $20 for the first 1-5 images in the same order (each additional image above 5 costs $4 per image) for 300dpi TIFs or 600dpi TIFs, plus tax for Wisconsin residents. If you have any questions, please contact mplarchives@milwaukee.gov.
Important Copyright Information
By providing or allowing reproduction of materials from the collections, the Milwaukee Public Library does NOT grant permission to publish or exhibit. Reproductions are provided for personal research purposes only. They may not be copied or distributed. Written permission to publish must be obtained from copyright or literary rights owner and from the library for any publication or commercial use of copies. The researcher is responsible for compliance with the US Copyright Code (title 12 USC) and privacy rights outlined in Title 45 CFR 46. For information on permission to publish, please contact the Photo Librarian at mplarchives@milwaukee.gov.