MPL Digital Library
Thomas Manz Slide Collection
Jump to: More Information - Order Information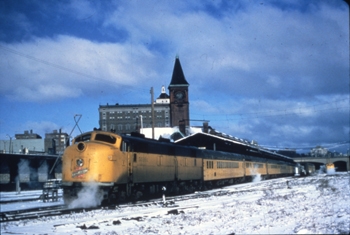 The collection contains black and white and color slides, mainly depicting streetcars and trains, primarily from the Chicago & North Western Railway (C&NW) and The Milwaukee Electric Railway & Light Company (TMER&L). Also included in the collection are a small number of slides of the Milwaukee Harbor, the General Mitchell International Airport, and images of the Milwaukee lakefront.
Back to all Digital Collections
---
More Information
The collection consists of 459 mostly black and white slides, with some in color. While the majority of the slides are undated, the collection covers dates that range widely between the early 1900s through the 1970s. Many of the slides are reproductions created in the 1980s, but some are older. While the collection is mainly of trains, streetcars, and interurbans, there are also slides relating to ships, trucks, and airplanes. The majority of the collection is of TMER&L and C&NW locomotives, cars, tracks, and depots.
Series 1 contains 142 slides of TMER&L streetcars and interurbans, tracks and bridges, work cars and locomotives, stations, yards and depots, timetables, trackless trolleys, and buses. Series 2 consists of 252 slides of C&NW bridges, cars, locomotives, maps of the Milwaukee area, portraits, publications, stations, yards and depots, timetables, tracks and equipment, and trains. Series 3 consists of other companies and locations, such as the Milwaukee Road, Soo Line, and the Santa Fe Railroad. The Milwaukee Harbor is represented with slides of ships, ferries, and other activities related to the port. The trucking industry is represented by the Gateway Transportation Co.'s facilities and trucks. The Milwaukee Lakefront, the Bay View Rolling Mills, as well as General Mitchell International Airport, including a Capital Airlines Vickers Viscount airplane, are also present.
Not all slides have been included in this digital collection.
---
Order Information
Copies of the images in this collection may be purchased. Orders must be placed online, using your Special Collections account. The images are delivered electronically. The cost is $20 for the first 1-5 images in the same order (each additional image above 5 costs $4 per image) for 300dpi TIFs or 600dpi TIFs, plus tax for Wisconsin residents. If you have any questions, please contact mplarchives@milwaukee.gov.
Important Copyright Information
By providing or allowing reproduction of materials from the collections, the Milwaukee Public Library does NOT grant permission to publish or exhibit. Reproductions are provided for personal research purposes only. They may not be copied or distributed. Written permission to publish must be obtained from copyright or literary rights owner and from the library for any publication or commercial use of copies. The researcher is responsible for compliance with the US Copyright Code (title 12 USC) and privacy rights outlined in Title 45 CFR 46. For information on permission to publish, please contact the Photo Librarian at mplarchives@milwaukee.gov.