MPL Branch History: Martin Luther King
Though the Martin Luther King Branch (formerly Locust Library) opened in 1971, it was preceded by several branches on Milwaukee's north side. Third Street Library, one of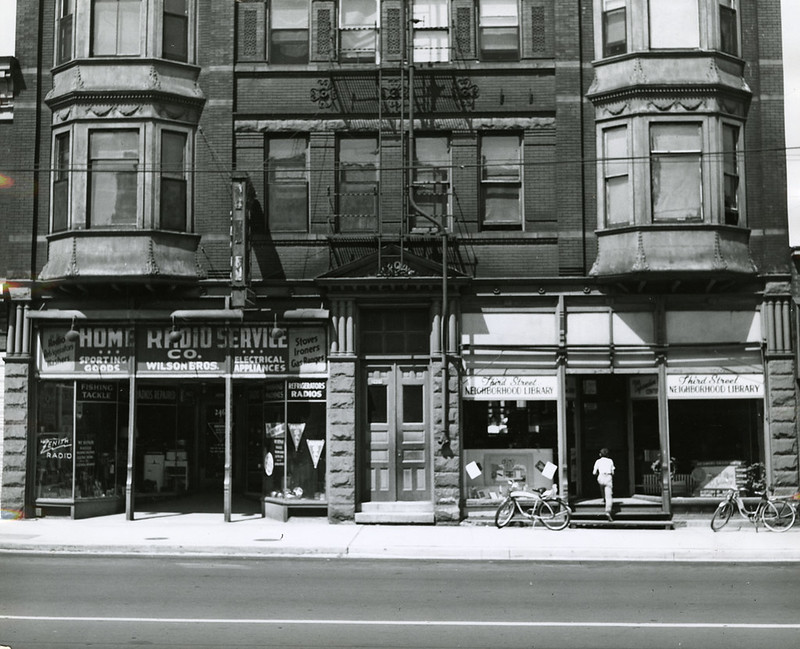 the Milwaukee Public Library's earliest full-service branches, began as a library delivery station in 1886, at 763 3rd St. (present-day Garfield St. and King Dr.). Housed in Rupp & Co. drugstore, patrons were able to request and return items from the Central Library.
The 3rd St. station lasted until approximately 1903, when MPL phased out delivery stations in favor of full-service spaces. Third Street Library opened its doors five years later at 2467 N. 3rd St., and served the community until 1963. The closure, met with protests from local officials and residents, was due to decreased circulation and staff needs at other branches.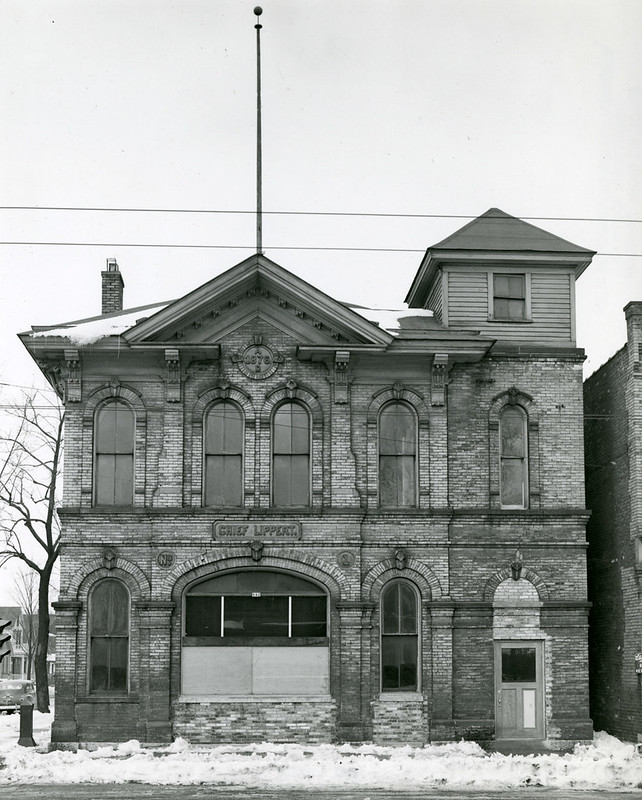 Lapham Park Library opened for service in 1915. The branch shared a facility with the Lapham Park Community House, where it lived for eight years before moving to a larger space at 1752 N. 9th St. Over the next few decades, the community transitioned into Bronzeville, as it housed many of the city's Black residents. The neighborhood also changed from a working-class to a high-poverty area.
In the late 1940s, the Housing Authority of the City of Milwaukee began leveling old homes for the Hillside Terrace public housing project. More than 600 residential units were built between 1948-1956, with hundreds more created in the 1960s. Lapham Park branch closed in 1952, and reopened as Lapham Library at 642 W. North Ave. The former fire station was constructed in 1876, and contained two stories of library space. Lapham Park closed in 1971 as its collection shifted to Locust Library.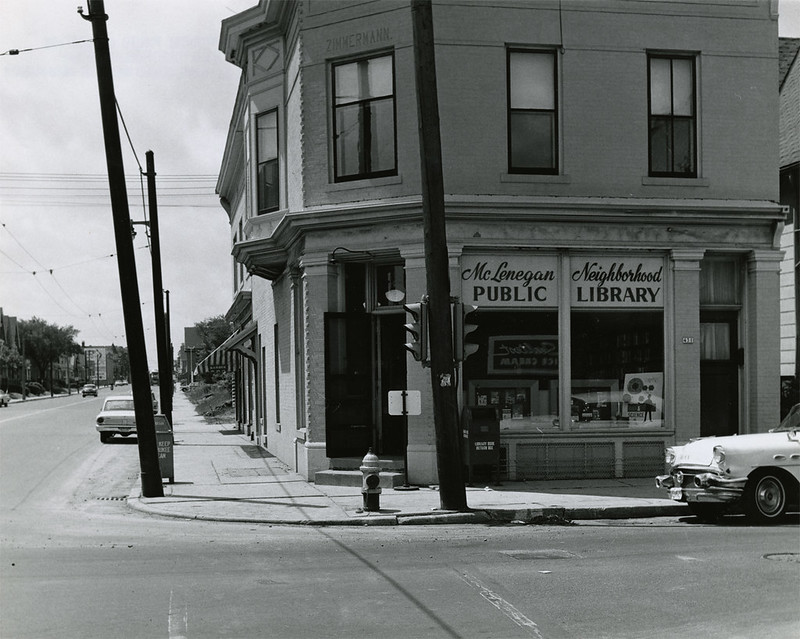 In 1926 McLenegan Library began serving the public at 433 E. Locust St. In the early 1960s as MPL faced a "bare-bones" budget, the library board attempted to close the building. Pressure from local officials and citizens, citing a lack of public hearings and arbitrary methods, saved the library for nearly ten years. With the new Locust Library erected a half-mile away, McLenegan transferred its collection in 1971, and, along with Lapham Library, was the last MPL location to permanently close.
As the last branch of MPL's ten-year redevelopment plan, the Locust Library was planned within the boundaries of Interstate 43, the Milwaukee River, Capitol Dr., and Walnut St. A site at 310 W. Locust St. was chosen, and groundbreaking commenced in July of 1970. Just over a year later, in September 1971, Locust Library opened to the public, at a cost of $402,000. Visitors were welcomed by a performance from Vic Pitts and the Cheaters, a popular local R&B group known for their television show and club concerts. Located steps from the steep Locust St. hill, the design firm of Johnson, Wagner, Isley & Widen created a bent, elevated roof to welcome visitors to the library as they traveled from the east. The roof also features two continuous bands of clerestory windows, allowing natural light to enter the children's and adult reading room spaces.
The library features a brown brick exterior, topped by vertical precast concrete panels. A contemporary gazebo, spanning 16 feet in diameter with precast concrete, was also part of the site's original design. Inside, 15,000 square feet of space provides room for up to adult and children's 60,000 materials. The spaces are overseen by a central service desk, which allows adequate site lines between staff and visitors. A community room, which was not offered by the Lapham and McLenegan libraries, provides seating for up to 100 attendees.
In February of 1972, alderman Orville Pitts proposed renaming Locust Library after Dr. Martin Luther King Jr., the civil rights leader who was assassinated in 1968. Center St. library was also proposed but denied by Milwaukee's Streets-Zoning Committee.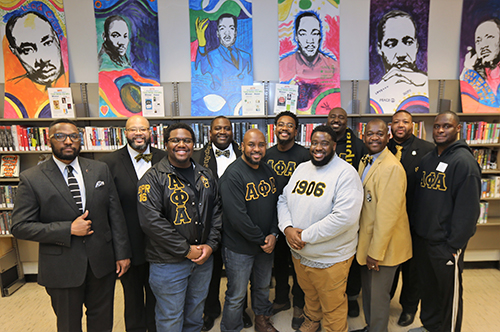 The proposal passed and the building was renamed Martin Luther King Library in 1973 (3rd St., on the east side of the library, was renamed King Dr. in 1984). The legacy of Dr. King became an integral part of King Library, as various programs in commemoration were held throughout the years.
In 2008, the branch began opening its doors on King Day (a holiday for city employees) and hosted performances, crafts, trivia, and more for visitors. The celebration has grown into one of the library's high attended events each year.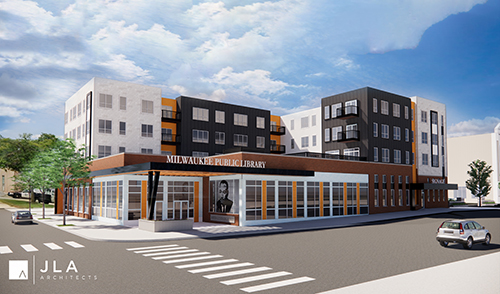 In 2014, MPL began the process of replacing the dated M.L. King Branch. Proposals for mixed-use developments were submitted, with plans located nearby on the same site. Funding issues delayed the groundbreaking of the library, however, in 2021 the library secured capital to move forward with a new facility. Moody Nolan has been selected to design the new library, which holds an expected completion in 2023.
We're interested in hearing from you about the interior design and features of the new King branch currently in development. Please complete our online survey at mpl.org/MLKBranch to tell MPL what you would like to see and experience in the redeveloped branch.