Brainfuse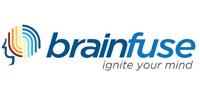 Brainfuse
Parents - do both you and your students need help while learning at home? Ask a Brainfuse tutor for help! Watch this video to understand how their live tutoring works. And check out some of Brainfuse's other features: flashcards, learning games, customized study plans, writing help, language learning support or meet up with friends in a virtual study room. NEW! Chess enthusiasts – interact with a LIVE chess tutor! Look for the Featured Service star to begin connecting.
Are you a student looking for live tutoring help? Need assistance with a wide range of classes from grade school reading to college physics? Connect with a teacher using the Brainfuse database! It is a unique blend of tutoring, one-to-one homework help, state-aligned skills building, test preparation, and writing assistance for students of all ages, from elementary school to college studies. Available seven days a week, from 11:00am to 11:00pm. Generously sponsored by a grant from The Elizabeth J. Tellier Foundation.
Library subscription. Available for use within City of Milwaukee libraries and by remote access to City of Milwaukee library cardholders.