Happy Birthday
Dr. Seuss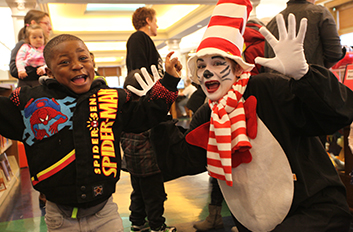 Generations have enjoyed the delightfully silly, rhyming books of Theodore Geisel, AKA Dr. Seuss. Celebrate this beloved author's birthday with stories, music, birthday treats and more.
Saturday, March 3, 10 am-1 pm
Join Browser, the Library Lion, and the Cat in the Hat as they "check out" these festivities:
Face painting
Reel in a good time at the Red Fish, Blue Fish pond
Play Seuss's socks matching games
Hear silly stories in our story nook
Meet live turtles and tortoises in the Yertle the Turtle Pond
Create Seuss-inspired art with Artists Working in Education
Decorate a cookie and take it home to eat
Enjoy singing, dancing and acting out stories at the reading steps
Reading Step Entertainment in the children's room:
10-10:45 am Kick up your heels with the fun and lively music of local group Fox and Branch!
11-11:45 am Laugh out loud as nationally known family entertainer Chris Fascione brings children's stories to life with his high-spirited and innovative performance.
12-12:45 pm Enjoy more family fun with Fox and Branch!
11 am-1 pm Boing! Bam! Boom! Poetry Writing Workshop
Try your hand at writing poems that use words that sound just like the noises they are describing (that's called onomatopoeia)! We'll read some famous onomatopoeia poems and write our own.
Branch Library Celebrations

Kidsplay presents Thing Three and Thing Four
In "The Cat in the Hat" we meet Thing One and Thing Two. In Kidsplay's show we meet Thing Three and Thing Four. Come along as these two misfit Things journey into the world of Seuss, exploring rhyme and rhythm, and the general wacky absurdity that makes Dr. Seuss so wonderful!
Atkinson
Monday, March 12, 5:30-6:15 pm
Capitol
Wednesday, March 7, 5-5:45 pm
Center Street
Tuesday, March 6, 4-4:45 pm
Princess of Magic
This "Magicienne" is not your ordinary princess! Marvel and laugh during this interactive magic show that celebrates Dr. Seuss's birthday with a magical twist.
Tippecanoe
Tuesday, March 6, 6-6:45 pm
Zablocki
Saturday, March 10, 2-2:45 pm
Ms. Kim's Amazing Animals
Interact with live animals from small mammals to reptiles!
Bay View
Tuesday, March 13, 6-6:45 pm
East
Wednesday, March 14, 6-6:45 pm
Mitchell Street
Saturday, March 17, 2-2:45 pm
Villard Square
Tuesday, March 6, 6-6:45 pm
Washington Park
Monday, March 12, 4-4:45 pm
Magician Rick Allen
Join Mr. Rick for a magical birthday celebration. You may even be chosen to be suspended mid-air!
Martin Luther King
Monday, March 5, 5:30-6:15 pm