Great Lakes Marine Collection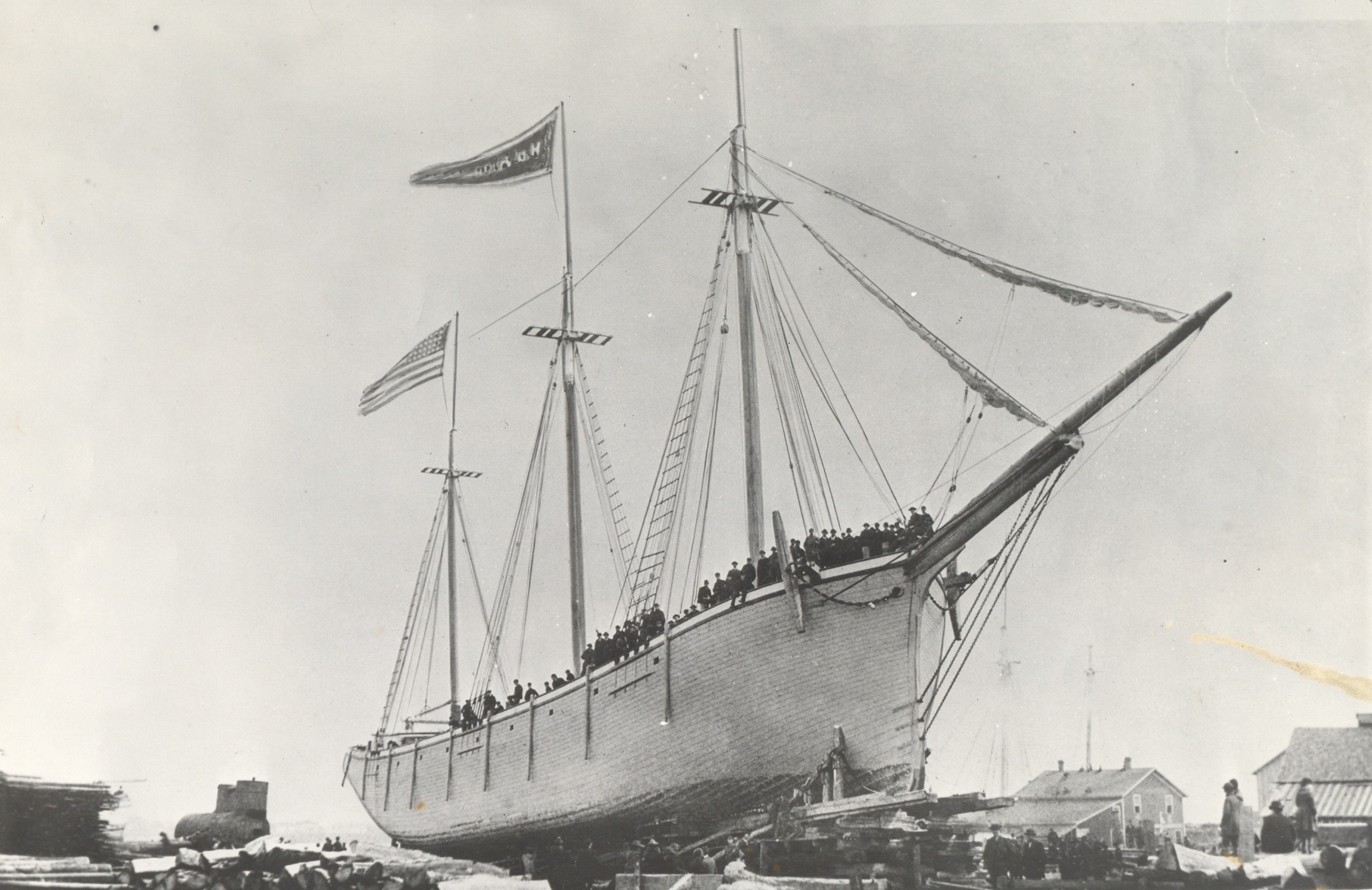 The Great Lakes Marine Collection includes books, photographs, articles, ship files, log books, vessel plans, wreck reports and more, documenting vessels that sailed the Great Lakes.
The collection achieved international renown when noted local expert Herman Runge bequeathed his entire marine collection to the library in 1958. As a result, the Wisconsin Marine Historical Society (WMHS) was created. Since that donation, the WMHS and the library have developed one of the most important repositories of Great Lakes historical materials in existence. In addition to books it includes:
Great Lakes Vessel Files
Formerly known as the Runge Collection, data on more than 11,000 vessels is kept on file. The files include Great Lakes vessels that sailed in 1679 to the present day. Each file contains a data sheet outlining the vessel's size and history, as well as any available photographs, pamphlets, and copies of articles about the vessel. The data sheet contains information such as when the vessel was built and for whom, the captain's name, what it carried, when it sank and if the wreckage has been found, if there is a painting or blueprint of the hull, and more.
Shipshape
The online version of the Shipshape database contains brief information, including notes on the availability of images, for more than 11,000 Great Lakes vessels dating from 1815 to the present. Shipshape serves as an index to the Great Lakes vessel files. Visit the Frank P. Zeidler Humanities Room at Central Library to search and retrieve full Shipshape database results from a dedicated computer station and to request Great Lakes vessel files for use in the room.
Great Lakes Marine Magazines and Journals
WMHS staff and volunteers continuously update the information in the Great Lakes Vessel Files with details from more than 30 periodicals, some of which date back to the 1800s. These magazines provide information on shipping throughout the world as well as the Great Lakes. They cover ports, shipwrecks, shipbuilding, storms, captains and crew, and other current and historical information. Also of interest are historic Milwaukee newspaper resources, which are available in the Periodicals Department at Central Library, especially the 1837-1890 Milwaukee Sentinel Index (card file).
Directories
Directories such as Inland Lloyds, Merchant Vessels of the US, Canada List of Shipping, Great Lakes Red Book, Blue Book of American Shipping, and Beesons from the 19th and 20th centuries recorded statistical data on shipping firms, vessels, and their captains.
Marine Subject Files
The Marine Subject Files are an A to Z list of subjects on Great Lakes maritime history including entries on specific shipbuilders, shipping companies, shipyards, ports, lighthouses, as well as individual biogrpahies. They may contain articles of varying lengths from newspapers and magazines, as well as pamphlets or brochures.
Log Books
The Great Lakes Marine Collection Log Books Index lists log books held in the collection.
Ship Plans Collection
The Ship Plans Collection is comprised of various vessel / ship plans, maps and other miscellaneous marine related drawings held in the Great Lakes Marine Collection at Milwaukee Public Library.
Great Lakes Nautical Charts
The Great Lakes collection of nautical charts dates back to the 1800s. Many underwater divers have used these charts to find "lost vessels." As an official U.S. government depository, the library receives all nautical charts published by the federal government.
Federal Documents
The library has more than one million federal documents, which include reports of the Coast Guard's life-saving stations, coastal pilots and wreck reports. Some date back to the 1800s.
Vessel Enrollments
This collection of microfilm records from the U.S. National Archives includes over 60,000 enrollment records on 44,000 vessels from 1817 through 1900, and includes ship and owners' names, design detail, tonnage, home ports and more. A database check can tell you whether enrollments are available for the vessel you are researching. Copies of the enrollments are available for a fee. Please contact the Wisconsin Marine Historical Society.
Milwaukee Waterways
Over 1,000 photographs in the Milwaukee Waterways digital collection provide a visual history of Milwaukee and her three rivers and port. A matching grant from the Wisconsin Coastal Management Program helped preserve these photographs from the Port of Milwaukee, Milwaukee Public Library Historic Photo Collection, and the Great Lakes Marine Collection and make them available online.
Using the Collection
Great Lakes Marine Collections are viewed by appointment only the Frank P. Zeidler Room of the Central Library. All materials are requested and appointments are scheduled here. Same day access cannot be guaranteed. All research questions should be addressed via e-mail to mplarchives@milwaukee.gov and will be answered in the order received.