African American Labor History in Milwaukee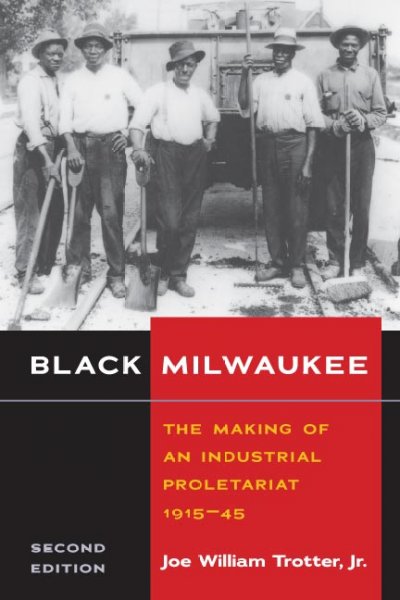 Black Milwaukee: the Making of an Industrial Proleteriat, 1915-1945 by Joe Trotter examines the lives of African American industrial workers in Milwaukee in the first part of the twentieth century, as African Americans began to be employed in Milwaukee's manufacturing sector. Adapted from the author's Ph.D. thesis and originally published in 1981, it is the definitive study on the subject. The 2007 second edition of the book, shown above, updates this history with an essay covering African American urban history since 1985 and includes not only a new preface and a new prologue, but also several essays by other historians discussing the impact of the original Black Milwaukee on the study of African American urban history since it was published.
The 2008 Milwaukee Public Television documentary Punching In further explores what happened to African American industrial workers in Milwaukee when the city's manufacturing sector declined rapidly in the 1980s and so many blue collar jobs were lost. Together these two resources present a vivid picture of 20th-century African American labor history in Milwaukee.
For a glimpse into to early 21st-century trends affecting the local African American labor force, try the the studies on Minority Access to Jobs and Housing in Metro Milwaukee and Workforce Training compiled in the past decade by the University Wisconsin Milwaukee's Employment & Training Institute.