Kroger Returns to Milwaukee for the Third Time
Kroger, the largest national grocery chain, announced last week it will acquire Roundy's, the parent company of Milwaukee grocery market share leader Pick 'n Save and return to Wisconsin after a 44 year absence.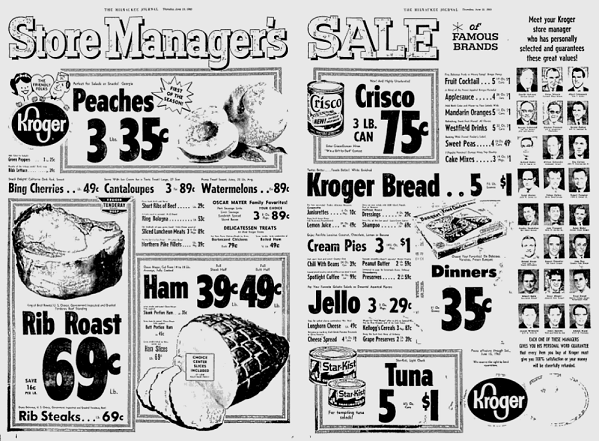 Kroger ad, The Milwaukee Journal, June 13th, 1963
The Cincinnati-based chain first entered Wisconsin in 1928 and Milwaukee in 1933. Despite having a dozen stores, it couldn't shake pre-war Milwaukeeans' loyalty to their corner mom & pop corner grocer (54%). It barely registered a measly 1% market share in the 1936 edition of the annual Consumer Analysis published by The Milwaukee Journal. To put that into perspective, that was less than the cutoff for the undercard of last week's Republican presidential candidates debate at the Milwaukee Theatre. Their first foray into the Milwaukee market petered out in 1939.
Appleton-based Krambo opened its first Milwaukee-area supermarket in the basement of Hill's Department Store (future home of the Milwaukee Public Library's Forest Home branch) on Mitchell St., the South Side's main shopping district in 1947.
Both Krambo and Kroger opened supermarkets in the then new open-air Bay Shore Shopping Center in 1954. Kroger embarked on another national expansion campaign and saw Krambo's growing presence in the post-war Milwaukee market as a tempting apple to add to its corporate bushel. Krambo was third (11%) in market share behind front runner A&P (40%), then the largest national grocery chain, but ahead of another growing local grocery chain, Kohl's, which was in sixth place (8%).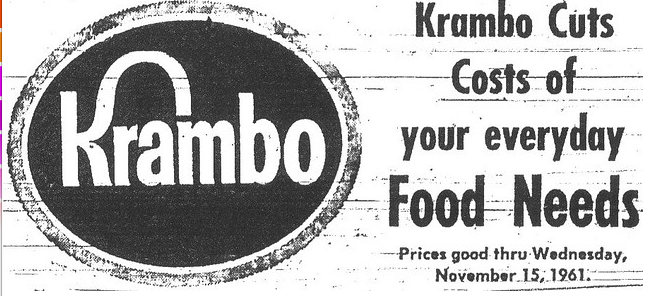 60 years ago, Kroger bought Krambo, but kept its name. Sounds familiar? Kroger products appeared on Krambo shelves. Krambo's logo was redesigned in 1961 to mirror the Kroger logo. They dropped the Krambo name in 1962. Under the Kroger banner, its market share peaked at third (14%) in 1963 behind a surging Kohl's (18%) soon to overtake A&P (21%) as the 800 pound gorilla on Milwaukee's grocery scene the following year.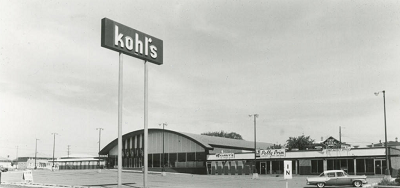 Kohl's Food Store, 1961, courtesy of our Milwaukee Historic Photos
While Kroger stores were not as dingy as those of other faltering national chains, A&P and National, local chains Kohl's (38%) and Sentry (16%), which developed reputations for having good meat and produce departments, battered Kroger (6%) into leaving Milwaukee for a second time in 1971.
Kohl's and Kroger were only two or three storefronts apart at "fabulous" Capitol Court Shopping Center (razed in 2001 for Midtown Center). On a typical Saturday afternoon, all 12 checkout lanes at Kohl's had long lines, while Kroger was half-empty. My parents were part of the 40 percenters who did most of their grocery shopping at Kohl's. It seemed they only went to Kroger for Banquet TV dinners and pot pies, S&H Green Stamps and Gumby coloring books for me.
One lesson that Kroger has learned is to keep the names of some local chains they acquire. Time will tell if the third time is the charm for them.
Commission Row Peddler @ Central
(Dan, Local History Librarian)