MPL Service @ 76th & Good Hope 100 Years Ago
The Milwaukee Public Library's (MPL) newest branch, Good Hope, opened on July 29th. While searching MPL's annual reports about the 1918-1919 Influenza Pandemic, they revealed that we provided service at the intersection of 76th and Good Hope, a century before Good Hope opened. In 1915, Milwaukee County contracted with MPL to provide books for then-rural branches to be housed in centrally located township schools. The 1916-1917 Annual Report has a somewhat out of scale map of Milwaukee County branches and cement roads.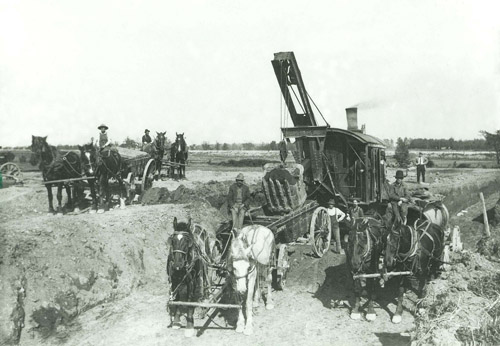 Grading the right-of-way in 1910 for the Chicago & North Western Railway tracks, south of Mill and Hamburg (64th) Rds.
Joe Bacher, Milwaukee Public Library, Remember When… Collection
One of the rural branches was at Granville Center School, District No. 5 at the northeast corner of Good Hope and Wauwatosa (76th) Rds. The Town Hall was kitty-corner at the southwest corner. The rural branches started service about February 1st, 1916.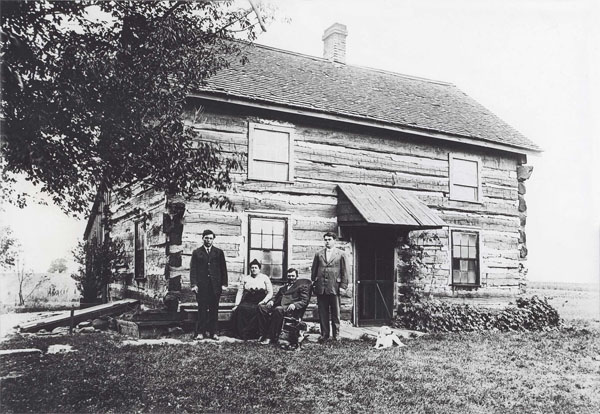 George, Lizzie, John and Arthur Schmidt posed in front of their home in 1906 in the Town of Granville. The former Mill Road branch library (1970-2020) was built on the site of their home. Their bigger, circa 1910-1913 house still stands on N. 76th St., north of the old library. A family member works for the Milwaukee Public Library.
Joe Bacher, Milwaukee Public Library, Remember When… Collection
Granville Center was one of the pre-1960s settlements in the Town of Granville. It was in the middle of the town (County Line, Range Line (27th), Town Line (Hampton) and County Line (124th) Rds.).
Each township school in Milwaukee County was its own school district with an elected director overseen by the Milwaukee County Superintendent of Schools, hence the district number being part of a school's name. Those names are still etched above the entrances of town schools absorbed by the Milwaukee Public Schools during annexation and consolidation, including Craig School, District No. 2 (Town of Wauwatosa) and Browning School, District No. 4 (Granville).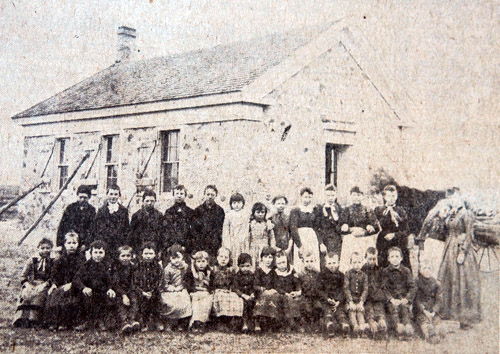 Granville Center School, District 5, Good Hope and Wauwatosa (76th) Rds., 1889, The Milwaukee Journal, Green Sheet, August 26th, 1975, Photo courtesy of Joe Bacher.
Joe Bacher, the "Pickle King," provided or lent several photos to MPL for the Remember When... feature in The Milwaukee Journal's Green Sheet, including a photo of the first Granville Center School published on August 26th, 1975. Three of his Granville photos have been digitized.
He was born on the family farm at Hamburg (60th) and Green Tree Rds. in 1902 and attended the first and second Granville Center School. He sold his produce at the Haymarket (5th and Vliet). The third and final Granville Center School opened in a two-story building in 1942, the same year as the WPA-built Town Hall opened a block away at 7717 W. Good Hope Rd.
The "Pickle King" was elected and reelected director of Granville Center School, District No. 5 in the 1940s-1950s. He opposed the April 1956 Milwaukee-Granville consolidation (almost completely upheld by the Wisconsin Supreme Court in 1962 over almost all of Brown Deer's March 1956 annexations of most of Granville).
MPS' Clara Barton School (replaced East Granville School, District No. 2, 4511 W. Good Hope Rd., in 1962) was a block away from Bacher's farm. He greeted our classes as we picked up pumpkins for Halloween. He sold his farm and farm house in 1999, which was razed for the Job Corps Center. He lived until 101 in 2004.
Dan, Local History Librarian