The bubble houses of Wallace Neff are something to behold indeed. Take a look...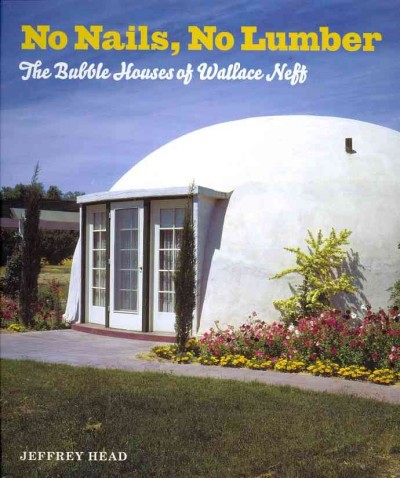 Weird white bubbles of concrete, these houses look more like science fiction than suburban subdivision. No Nails, No Lumber by Jeffrey Head shows the beauty and versatility of Neff 's design. The first bubble houses were built in Falls Church, VA during World War II as housing for government families. The small community was nicknamed "Igloo Village" because all the houses are odd white domes. After that, Neff was hired to build a little community in Litchfield, AZ, a linen supply building, and a dormitory at Loyola Marymount University. Bubble houses were built as fun resorts in the Caribbean and in Turkey.
Neff created a unique method he called Airform construction – houses built with air. The houses were built by laying a round foundation and anchoring a giant balloon (imagine a giant half grapefruit, flat side down) to the foundation. They used a stronger-than-concrete concoction called gunite, firing it from a high pressure gun over the surface of the bubble. When the concrete dried, the bubble was deflated and removed leaving a dome! All told, an Airform house could be functional in about 48 hours. They were quick, cost-effective, simple, and durable structures.
When he started building his bubble houses, Wallace Neff was already a famous architect. He designed Pickfair, the Spanish colonial mansion designed for silent film stars Mary Pickford and Douglas Fairbanks. He designed houses for all three Marx Brothers. Reese Witherspoon owns a Neff house. And yet the houses he hoped would be his legacy were concrete bubbles. In the United States, only one of Neff's original bubble houses still stand. Located in Pasadena, California, it is the house Neff himself lived in. The architect to the stars decided to live in a 1,000-square foot bubble.
In addition to the house in California, there are still some houses standing today in Dakar, Senegal of all places. Between 1948 and 1953 about 1,200 bubble houses as the city started expanding. People wanted houses to replace their traditional grass dwellings, and Airform structures were cheap and fast. Today they have been adapted to be more traditional houses with bathrooms, living rooms, and other spaces, often surrounded by traditional rectangular buildings to make a sort of compound. After all this time they are quite resilient structures.
There are lots of places to learn about these bubble houses. I first heard about them in an episode of the radio show 99% Invisible, which includes an interview with a woman who lived in one of the original Falls Church bubble houses. You can also check out the 2011 LA Time feature about the last remaining bubble house in the US, and a (highly recommended) photo gallery from Planet Magazine.
Allie @ Central