Browser's Book Bash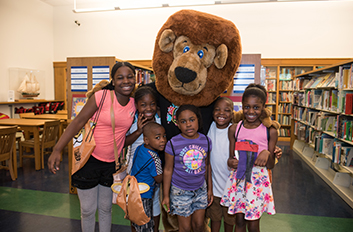 Browser's Book Bash
Celebrate your love of reading, books, and the characters that make them special. The Milwaukee Public Library celebrates our city's diverse community of readers and the books that Milwaukee loves! Join us for music, comedy, literacy activities, animals, art, and cookie decorating! You might just see the Cat in the Hat or Curious George!
Join Browser the Library Lion, Curious George, and the Cat in the Hat as they "check out" these festivities:
Get your face painted
Enjoy singing, dancing and acting out stories
Hear silly stories in our story nook
Play Fox in Socks matching games
Meet animals at Lulu's animal "rescue"
Visit Frog and Toad's Fishing Pond
Create book-inspired art with Artists Working in Education
Decorate a cookie
Reading Steps Entertainment
10-10:45 a.m. Family Dance Party with Kid Boogie Down
11-11:45 a.m. Chris Fascione brings children's stories to life
12-12:45 p.m. Sing and dance with The Figureheads
---
Enjoy more book-based fun at these neighborhood branch library reader celebrations!
Frog and Toad Are Friends
Frog and Toad have been friends for 50 years! Celebrate with Schlitz Audubon's reptiles and amphibians. See them up close, learn what makes each of them unique, and why they are our friends, too! We'll also have fun activities based on Frog and Toad's adventures.
Central | Saturday, February 29, 10:30-11:30 a.m.
Villard Square | Wednesday, March 4, 4:30-5:30 p.m.
Center Street | Monday, March 9, 3-4:30 p.m.
Tippecanoe | Monday, March 16, 6-7:30 p.m.
Atkinson | Monday, March 23, 4-5:30 p.m.
East | Tuesday, March 31, 4-5:30 p.m.
Pete the Cat Party
Join us to celebrate all things Pete the Cat! We will have various stations of crafts and activities. Bring your magic sunglasses and do the cool cats boogie! In addition to the book bash, enjoy a Pete the Cat Scavenger Hunt during the month of March.
Zablocki | Tuesday, March 3, 6-7 p.m.
Bay View | Tuesday, March 10, 6-7 p.m.
Elephant and Piggie Party
Celebrate the beloved characters Gerald and Piggie with all of the laughter and fun of the Elephant and Piggie book series by Mo Willems.
Washington Park | Tuesday, March 10, 5-6 p.m.
Capitol | Tuesday, March 17, 5-6 p.m.
Teju the Storyteller
Teju the Storyteller combines storytelling, singing and percussion instruments to create an entertaining whirlwind of a performance about African and African American folklore for all ages.
Martin Luther King | Monday, March 23, 5:30-6:30 p.m.
Princess of Magic
This magicienne is not your ordinary princess! Marvel and laugh during this interactive magic show.
Mitchell Street | Saturday, March 28, 1-2:30 p.m.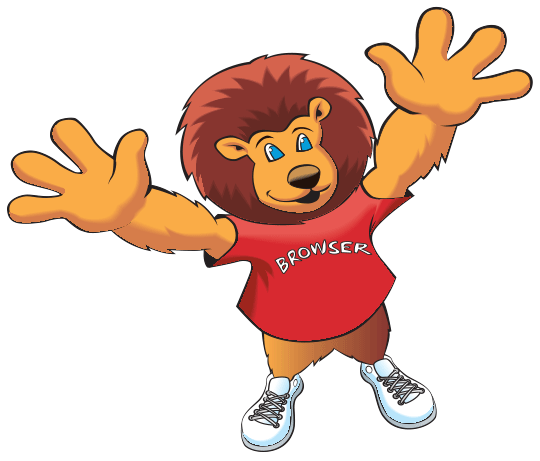 ---
Feel free to download and print our Browser the Library Lion coloring sheets.
Who is Browser the Library Lion?
Browser was introduced to the city (without a name) at the Grand Avenue Mall on April 20, 1985 for National Library Week and Imagination Celebration, a week-long series of city-wide arts events for children. He was also part of Milwaukee's City of Festivals parade on June 22, 1985. The sculpted lion was created by local artist Bob Geniusz under the direction of Marjorie Walker, director of Theatre School Ltd.
A naming contest was held during the summer and Browser the Library Lion was selected from several hundred entries. Eight-year-old Kathleen Simeth was the only one to submit the winning name of "Browser the Library Lion."
Browser was given his first makeover as a live mascot in late 1993. In 2016,
he was given another makeover, and along with that came the idea of officially
celebrating Browser's Birthday - August 1.
Browser Fun Facts:
Browser is a born-and-bred Milwaukeean whose best friends include the Cat in the Hat, Curious George, and Billy Bookworm.
His favorite color is Super Reader Red and he enjoys reading Color Zoo by his good friend Lois Ehlert and Library Lion by Michelle Knudsen.
Hobbies include reading, going to the library, and bowling, and he loves music, dancing, grand openings and hugs.
Browser also collects bookmarks of all shapes and sizes - especially homemade bookmarks.