History of the H. E. Bauch Building (The Subway on King Drive)
Many of you have watched the video of the upper brick façade of the Subway sandwich shop (H. E. Bauch building) collapsing at 2244 N. Dr. Martin Luther King, Jr. Dr. (Pre-1930 address, 792 3rd St.) on June 1, 2018. Fortunately, no one was injured.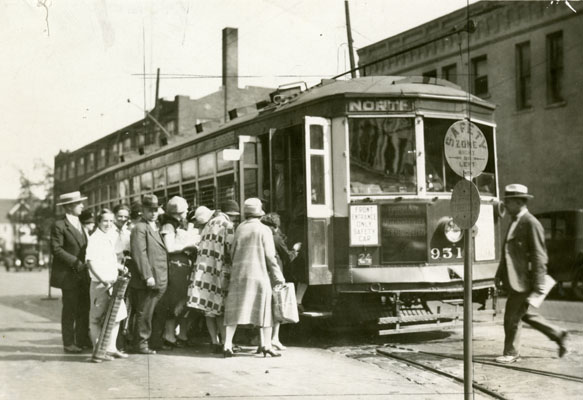 The upper façade of the H. E. Bauch building (Subway sandwich shop) is visible above the front of a #21 North streetcar in 1926. Milwaukee Public Library, Historic Photo Collection
The Milwaukee Public Library's Historic Photo Collection contains street scenes which include the Bauch building. The City of Milwaukee assessment record lists 1885 as the year built for six different, contiguous buildings at 2220-2244 N. Dr. Martin Luther King, Jr. Dr. The Wisconsin Historical Society's (WHS) Architecture and History Inventory (AHI) record lists 1907 for when the Bauch building was built. A check of the 1888 Rascher's, and 1894 and 1910 Sanborn fire insurance maps showing the same 2-floor building seems to confirm 1885.
Hugo E. Bauch first opened his dry goods store at 790 3rd St. in 1885. He soon moved next door to 792 3rd St in 1887 for only one year before moving to a larger building across the street, but he left his mark on the building. "H.E.BAUCH" is in raised lettering on the roofline above Subway. Bauch retired in 1917 and died in 1927.
Dry goods was a 19th century term for textiles and ready-to-wear clothes. Local department stores Schuster's, Gimbels, Boston Store, and T.A. Chapman started as dry goods stores before building multi-story department stores. One block south at 3rd and Garfield, Schuster's flagship store anchored the Upper 3rd St. shopping district (W. Walnut to W. Burleigh Sts.), Milwaukee's second busiest, trailing only Downtown before the rise of shopping centers after World War II.
Wright introduced the reverse address section in the 1921 City Directory. Checking that reverse address section every five years reveals familiar retailers. Both floors had separate businesses, 792 3rd St. was now assigned to the upper floor and 794 was the street level address. Milwaukee started using the current street grid address system in 1930. 793 3rd St. became 2242 N. 3rd St. (renamed Dr. Martin Luther King, Jr. Dr. in 1984). The upper floor (792/2242) housed two Chinese restaurants, Sun (1920s-1950s) and Gay Garden (1950s-1980s). 794 (2244) 3rd St. was occupied by Central Drug (Roaring Twenties), Walgreens (1930s), Kohl's (1940s-1950s), Heinemann's bakery (1950s-1970s), Roses Sea Food Palace (early 1980s), Stone's Jewelers (1990s), Blockbuster (early 2000s) and Subway for more than a decade.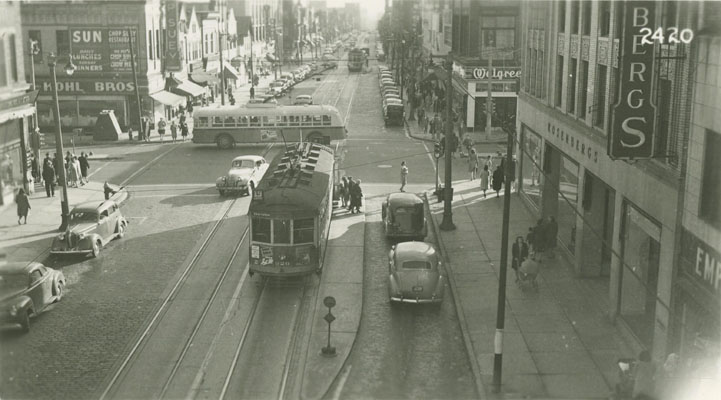 Looking south on N. 3rd St. (N. Dr. Martin Luther King, Jr. Dr.) towards Kohl's produce store and Sun Chinese restaurant in the H. E. Bauch Building (Subway sandwich shop) in 1948. Milwaukee Public Library, Historic Photo Collection
This 1948 photo was taken before streetcar tracks were removed and 3rd St. was widened. Kohl's produce store was part of Max Kohl's small chain of storefront grocery stores. He built his first supermarket at 4625 W. Burleigh in 1946 and his chain grew to dominate Milwaukee's grocery market from the 1960s until Roundy's Pick 'n Save dethroned it in the 1980s.
Three years ago, Kroger bought Pick 'n Save to reenter the Milwaukee market for the third time. Their first incursion into Milwaukee started when they opened a store at 2237 (now 2235) N. 3rd St. in 1933, but didn't last long as the Great Depression, mom & pop grocers, and A&P drove them out of town by the end of the decade.
To get an idea of how busy Upper 3rd St. was, the #19 3rd-Burnham and #37 3rd-S. 13th streetcar lines were Milwaukee's busiest public transit lines. During rush hour, they operated on 3-minute headways, which meant there was a car about every 90 seconds. The Rapid Transit interurban (light rail) to Cedarburg, Port Washington and Sheboygan shared the 3rd St. tracks to reach its right-of-way at the Fiebrantz carbarn.
Upper 3rd St. lost 37% of its regular shoppers in three years after Capitol Court shopping center (W. Capitol Dr. and N. 60th St.) opened in 1956. New shopping centers, the lack of parking and changing demographics in aging neighborhoods hurt shopping districts. Bitker-Gerner and Rosenberg's closed their 3rd St. clothing stores in the late-1950s and early-1960s. Schuster's profitable Capitol Court department store masked declining sales at their 3rd, Mitchell and 12th St. stores, but couldn't stop it from falling behind Gimbels by 1961. Seeing the handwriting on the wall, Schuster's agreed to being acquired by Gimbels in 1962.
An example of inadequate parking in shopping districts were the small, crowded lots at the Sears department stores at the Fond du Lac-North Ave. and Mitchell St. (Forest Home and 13th) shopping districts. A store employee with binoculars on the roof or tower in the parking lot, would say "Blue Pontiac, go to aisle 3, there is a vacant spot on the right side" through a bullhorn, as if drivers didn't know how to find a parking spot. Schuster's might or might not have used the same or similar system with their small parking lots.
The 1967 riot destroyed the fading Upper 3rd St. as a shopping destination. Schuster's former flagship store, named Gimbels-Schusters from 1962 to 1969, limped for a few more years before Gimbels closed it in 1970.
There has been some redevelopment on King Dr., especially south of North Ave. to coincide with the revival of the Brewer's Hill neighborhood. The Bauch building isn't as historically or architecturally significant as Trinity Evangelical Lutheran Church, but it's an example of how the stories of run-of-the-mill buildings enrich what we know about Milwaukee.
Dan, Local History Librarian