Milwaukee's Menagerie: Albert the Alley Cat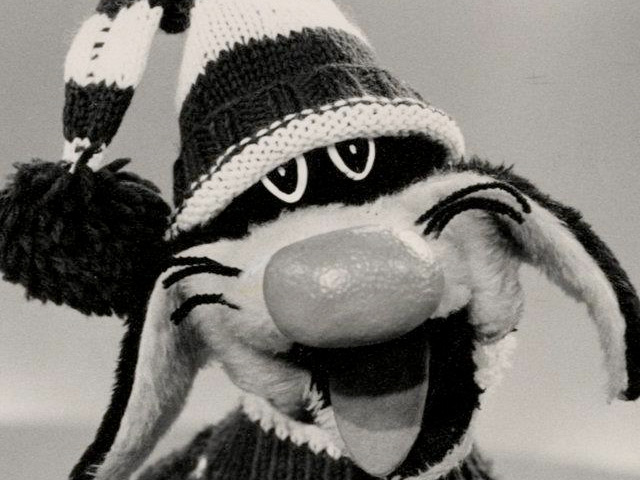 Long before there was Keyboard Cat, Nyan Cat, Grumpy Cat, or even Long Cat, Milwaukee had Albert the Alley Cat. With a career spanning decades of television, Albert was the fiercest feline weatherman on the airwaves. Now, for those people who are confused as to how a cat was a weatherman, let me break the unfortunate news to those who are hoping that an adorable cat wearing a tie would just chew on a weather map to predict the forecast – Albert was a puppet.
I know, I know, he's not a real animal, this whole post is a lie, and I have brought shame upon my house, my cow, and the library by including a not-real-animal in the Milwaukee Menagerie. But when you talk about the icons of Milwaukee, Albert has to be amongst them. I didn't grow up around Milwaukee (and was technically born after his career came to a close), so I wasn't aware of Albert until I started researching these articles and one of my more veteran colleagues brought up Albert, somewhat jokingly. Just the mere mention of Albert got a great reaction amongst other colleagues, so I knew this was something special.
The man behind Albert the Alley Cat was Jack DuBlon. He originally got his start in TV in Texas, with a 1956 show called Cartoon Alley. This was a children's program, of course, that required Jack to make puppets. The very first of these puppets was Albert, so it was fitting that Albert would become his legacy. In 1960 DuBlon would get hired by TV6 in Milwaukee as an announcer, and this would be the start of his two-plus decades of time as part of Milwaukee TV. Soon he'd be doing a Cartoon Alley in Milwaukee as well (with Albert, of course), followed by other children's programs in later years. In 1965 came Albert and DuBlon's big break for an audience older than twelve, when Albert got paired with Ward Allen for the weather. Yes, it was a gimmick, a schtick to draw in viewers (that some channels are still doing, puppet weathercasters are amazingly not unique to Milwaukee from 1965-1981), but it was a great one (Even if Tom Skilling would disagree). Talking about the 'humidery' and other weather 'sadistics', Albert would finish off the actual weather reports with the numbers for the day, and punctuate it with a joke. Sure, it was silly, but it was a Milwaukee kind of silly.
Sadly, in 1981, the suits at TV6 finally decided that Albert was too much of a gimmick and was hurting their journalistic credibility. Albert was cut from the weather, though he'd continue on children's programming through 1984 on 'Albert and Friends'. In 1985, DuBlont would move back to Texas, where he would sadly die of cancer in 1988. To this day, no one knows the whereabouts of his puppets.
Normally this would be where I link you to all the great library resources on Albert the Alley Cat. Here's where the further tragedy occurs: there isn't much. You can catch a chapter about DuBlon's late night alter-ego Dr. Cadaverino in Television Horror Movie Hosts, a reference book in the downtown Central Library Arts department, and you can check out Milwaukee Television History: the Analog Years for some more Albert-based info. Sadly, we don't even have a copy of Albert's Christmas single at the library. So my challenge to the Milwaukee Public is for someone to write the definitive book on our beloved Albert the Alley Cat. The furry fellow deserves it!