MPL Branch History: East Branch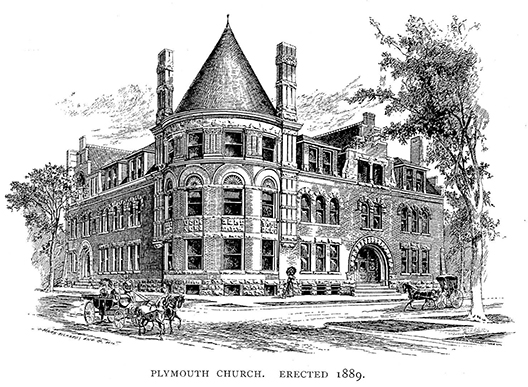 Milwaukee Public Library - East Branch's earliest days can be traced to its location in Plymouth Congregational Church, located on Wells (formerly Oneida) and Van Buren Streets. The library opened on February 8, 1909 inside the church's former reading room, and was managed by a single attendant. With extensive evening public service hours and its convenient East Side location, the library sought to "prove one of the most popular branches established."
Following immediate success with the public, the library quickly outgrew its space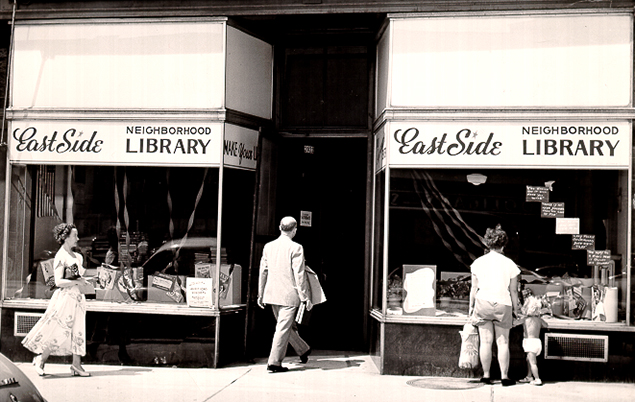 in the church. On October 11th, 1912, East Branch relocated further north to 2022 E. North Ave., with a lease of $105 per month. The new 1,800 square foot rented quarters featured more space for readers and materials, as well as a stronger presence on the city's East Side. By 1932, over 250,000 books were being borrowed, aided in part by the library's extensive fiction collection. Characterized by its two large storefront windows, the library often displayed books, items, and photos of years past to pique the curiosity of passersby.
As part of the library's 10-year redevelopment program in the 1960s, all storefront branches were to be replaced with standalone neighborhood locations, ending the need for rented space. In December 1967, East Side residents were presented with a surprise package for the holiday season, containing a model of a new library.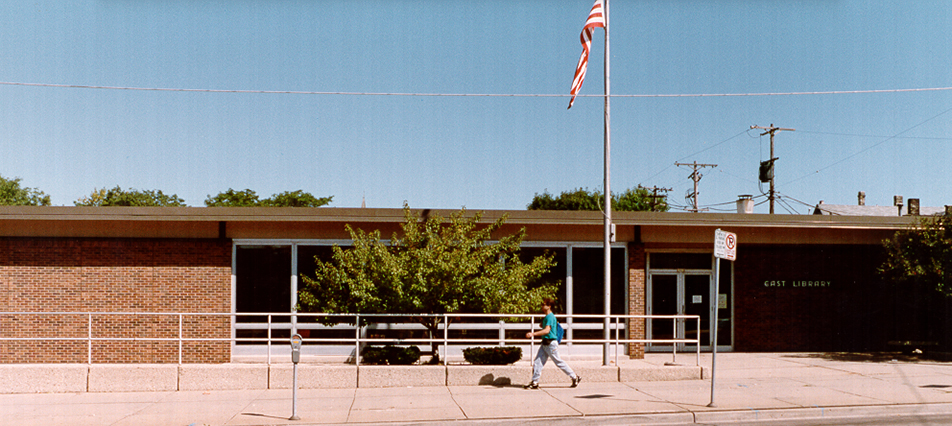 Less than a year later, the model became reality as the library opened its doors on Sunday, November 3rd, 1968 at 1910 E. North Ave., just steps from the former storefront. Materials from the old location and the Charles Allis Children's Library (1947-1968, 1628 E. Royall Pl.) were relocated to furnish the new building. Despite sunny weather and a Green Bay Packers game (airing in the new meeting room courtesy of a local merchant), 1,800 people attended the grand opening. Over a three-hour period, 546 items were borrowed and 51 visitors registered for library cards. Designed by architects Darby-Bogner & Associates at a cost of $381,000, the 15,000 square foot brick facility provided adequate space for 60,000 books, meeting groups, and staff areas. Ceiling height, multi-colored glass panels, and iconic Herman Miller furniture graced the library, which contained a diverse collection reflecting the eclectic interests of the East Side community. By 2003 the building's meeting room contained 17 works of art from Wisconsin artists and played host to numerous programs, concerts, and other special events.
In the mid-2000s, Milwaukee Public Library developed plans to replace many of its 40-year-old branches with mixed-use facilities. Following Villard Square Branch's success in 2011, the focus shifted to replacing the single-story East Branch with a five-story complex containing the library, apartments, and retail space. In true neighborhood fashion, an "I Closed the East Library" event was held in June 2013, just weeks before closing, with attendees being given an "I Closed the East Library" magnet.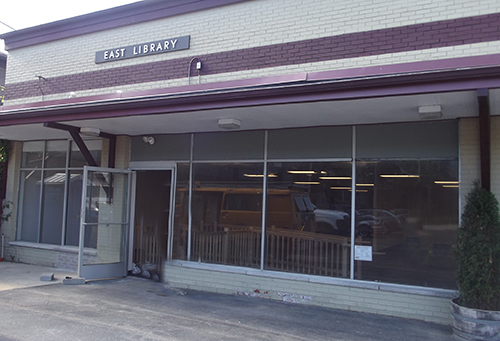 With a new facility planned for the same site, East Branch temporarily relocated to 2430 N. Murray Ave. A former pizza place and laundromat was converted into a cozy 2,970 square foot space, relying on a fraction of its collection and computers to provide books, media, and information to the public.
Nearly 17 months later, the current East Branch (2320 N. Cramer St.) opened to the public on November 22nd, 2014. With floor-to-ceiling glass, a fireplace, stylish design, and increased gathering space, the library, designed by the local architecture firm of HGA, opened to much enthusiasm. At a cost of $3.9 million, the 16,000 square foot space instantly became a "crown jewel" of the East Side, as the neighborhood itself was in the midst of a transformation.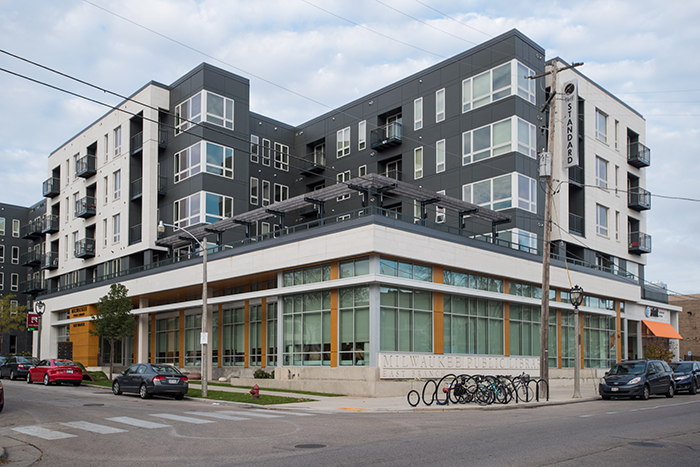 The library emanates a light color palette mixed with glass and translucent materials, creating a clean, contemporary aesthetic. Several prominent works of art are featured, including Ray Chi's bike racks, serpentine planter, and pebble racks, kathryn e. martin's Topos (topographical visual of the East Side), and Santiago Cucullu's "Blue Like Just After The Rain" and "Again Like an Orange of Affirmation and Selection" digital mural prints. Reclaimed decking boards and glued laminated timber from the previous building have new uses as a ceiling above material collections and a laptop bar. The multi-colored glass panels were also saved and installed as ribbon windows above the adult collection. Today, the library accommodates a variety of interests for all ages and continues to be loved by the East Side community. [photo of current branch, Mark Hines, photographer]